Or, Is This Ohio House Haunted?
Click here to see the original article or scroll down to read the whole story.
The Creepy, Death-Filled History of Ohio's Most Haunted Mansion
Written in March 2016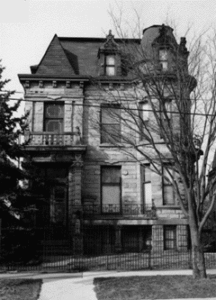 Built in 1881 in Cleveland, Ohio, Franklin Castle gets its name from the street it sits on—Franklin Boulevard—and gets its reputation from the mansion's dark history of unfortunate deaths. The imposing house was commissioned for Hannes Tiedemann, a German immigrant. With 20 rooms and elaborate fixtures, including turrets, gargoyles and a ballroom, the place truly looks like a castle out of a fairy-tale.
A short ten years after it was first built, Tiedemann's 15-year-old daughter died of complications from her diabetes. Shortly afterwards, Teidemann's mother passed away.
Then over the next three years, three more of Tiedemann's children died, sparking speculation and suspicious in the community. Rumors flew about the family, involving sexual scandals and murder—perhaps linking the terrible alleged crimes to the house's haunted reputation.
To distract himself and his wife from their grief, they performed extensive remodeling on the house, making it even more elaborate than ever before. During Prohibition, there were even unfounded rumors of hidden passageways used for bootlegging.
Teidemann's wife died at the age of 57 in 1895, just four years after the first death in the house. The house was sold to new owners, and Teidemann would die some years later with no heirs to inherit his wealth.
It is believed that Teidmann's wife stayed behind, in spirit form, after the sale of the house. Known as the Woman in Black, it's said she is sometimes spotted lingering on a certain balcony and upstairs rooms.
In the 1960's the house was inhabited by a family of eight, who soon began to experience some otherworldly encounters. The Romano family reported multiple ghost sightings, and even turned to exorcisms on the house, and ghost hunters. Eventually the family chose to leave the house than stay in the haunted place.
Ghosts, Hauntings, & Cheap Books: Sign Up For My Monthly Newsletter Today.
<3 Anna
Leave a Comment