insane asylum
Haunted Insane Asylum Part of Iowa Barn Tour
Written by Alma Gaul in June 2017
You can read the full article below or click here for the original post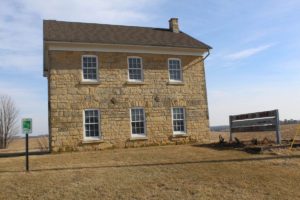 The 2½-story limestone building stands alone on a rural county road in Jackson County.
It is the only structure that remains on what was once the county "poor farm," a name given to farms set up years ago to give a home to people who, for whatever reason, did not have one.
Constructed in 1870, it was the "insane asylum," where people judged by the state to be "incurably insane" were locked away.
Local historian Don Wentworth believes it is haunted.
"When you go up the stairs, there is a hall with chambers, or cells, on either side, and at the end of the hall is a door with a lock on it," he said. "You have to have a key to open it.
"The (caretaker) keeps getting calls that it's open when no one has been out there. That's why we call it an authentic haunted place. Because there's no way to do that."
So why is this building on the Spring Barn Tour, a free, self-guided event to be held this Saturday-Sunday, June 10-11, sponsored by the Iowa Barn Foundation?
The foundation is a nonprofit group founded in 1997, dedicated to preserving Iowa's rural buildings that are symbols of Iowa's early agricultural heritage.
The answer is that because after its use as an asylum, the building was converted to agricultural purposes, used to raise hogs and chickens.
Each year, the spring tour highlights buildings in various parts of the state; this year, the Quad-City region is featured, with six barns in Jackson County and four barns and two corn cribs in Clinton County.
A building with haunted ties definitely is a first for the foundation.
The former asylum is empty inside, Wentworth said. The second-floor door that mysteriously opens without a key opens to … nothing. A person stepping through the door would fall to the ground below. Although there are no known photos of how the building looked when it was built, Wentworth assumes the door originally opened to a balcony or landing with stairs to the ground.
One of the windows still contains a steel grate, making it impossible for anyone inside to get out.
During the late 1800s, people with mental illnesses were regarded as hazards to themselves and to others who needed to be locked away, Wentworth said.
"And there are stories of widows who were committed by their families to get their hands on their money," he said.
The building was restored in 1993 and is listed on the National Register of Historic Places.
Ghosts, Hauntings, & Cheap Books: Sign Up For My Monthly Newsletter Today.
<3 Anna
Or, There Is No Doubt This Asylum Is Haunted
Click here for the original post or continue reading for the full story.
Abandoned Kenmore Insane Asylum 'Undoubtedly Haunted'
Written by Maria Lewis in Dec. 2014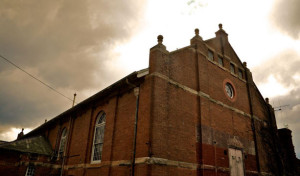 An abandoned insane asylum plagued by mysterious deaths, murders and rumors of malpractice.
It's like something out of a horror movie.
Instead, it's the murky history of one of Australia's most haunted places: Kenmore Insane Asylum.
Opened in 1895, the once grand hospital now lays abandoned on a 75-hecatre block of land situated in the New South Wales town of Goulburn.
One of the first facilities of its kind in Australia, it was considered the jewel of the medical community as it began with a small intake of only a few dozens patients.
That quickly expanded, with people being committed for anything ranging from promiscuity to postnatal depression.
As the hospital's patient size grew, so too did its notoriety.
Shock therapy was a common tool used to treat homosexuality at the facility, along with other offenses such as frequent masturbation.
There were eight separate rooms used for 'noisy and violent patients', which soon became nicknamed 'the wet rooms'.
Why? Because the rooms and their occupants were hosed down daily.
Wandering the empty halls, fingernail scratches can still be found on the backs of doors within these rooms.
Then there are the mysterious deaths.
In January of 1902, 41-year-old patient Henry George Baily committed suicide at the facility by ripping apart the restraints used to tie him to the bed and turning them into a makeshift noose.
He hung himself from a window shutter and was discovered by an attendant.
Almost two decades later, 21 more patients died in a pneumonic influenza pandemic at the asylum.
By the end of August 1919, two female patients and 19 male patients had passed away due to the illness that swept the facility.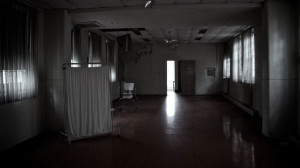 Just three years down the road, tragedy struck again in perhaps the most famous case to haunt the hospital's history.
Richard Sindell was a 24-year-old soldier who had been committed to the institution after suffering Post Traumatic Stress Disorder following his service in World War I.
During his time there he became convinced that the hospital staff were out to get him, with the conspiracy centering on Doctor Charles Moffitt.
During his leave, he returned to the hospital in December 1922 with a loaded gun.
After finding Dr Moffitt on a verandah, he shot him once before the doctor fled through the grounds with Sindell in hot pursuit.
During the chase he ran into a group of nurses and fired indiscriminately.
Nurse Naughton was shot twice in the chest, dying at the scene, while another narrowly escaped death after he shot the bonnet off the top of her head.
The hospital manager leapt into action, taking a gun from the hospital safe and shooting Sindell himself.
A wing of the hospital was named after Nurse Naughton, and a memorial statue placed at St John's orphanage for boys just down the road.
According to locals, it's said to be just as haunted as Kenmore.
The grisly murder wasn't the last of it.
In October, 1929 another patient – Monicha Scott, 32 – slit her own throat by using the glass shards of a broken window.
The orderly who discovered the young woman was said to have been traumatized by the event.
Yet the hospital seemed to re-find its footing, with some 1400 patients housed during its peak in the 1960s.
Services didn't wind down until the early 2000s, with the massive collection of buildings now left empty and abandoned.
Even a historic museum nearby, which homed artifacts from the asylum, has wound down operations with exhibits being loaned out to the National Museum Of Australia and the Powerhouse Museum.
Now, the only visitors to the empty grounds are those brave enough to go on a guided ghost tour.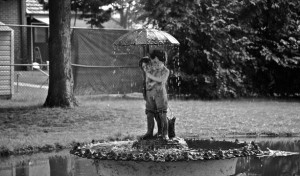 "Oh, it's haunted," says 52-year-old Anthony Lakoff.
"There's no doubt in my mind or anyone else's once you have visited that place. It's kind of like Australia's Bermuda Triangle of haunted places."
The Sydney accountant's grandmother was once a nurse at Kenmore, which first sparked his interest in the asylum's colourful history.
He has visited the Goulburn landmark over a dozen times – twice in 2014 so far – on ghost tours and a private tour by a former orderly.
The 'Bermuda Triangle of haunted places' he's referring to includes the nearby orphanage St John's, and a girls orphanage, St Joseph's, which is also abandoned and unmistakably creepy.
Although there have been countless plans to redevelop all three sites, for the meantime they remain empty.
Windows have been smashed, graffiti emblazoned along the walls and the hallways scattered with debris.
What other secrets Kenmore Insane Asylum may hold are a matter of a state record, with other files about the activities in the facility said to be released in the coming years.
Ghosts, Hauntings, & Cheap Books: Sign Up For My Monthly Newsletter Today.
<3 Anna