Or, Look Inside The Haunted Roxy
Click here for the original post or keep reading for the full story.
Parramatta's Haunted Roxy Theater to Become a High-Rise Apartment Block
Written by Linda Silmalis in Feb. 2015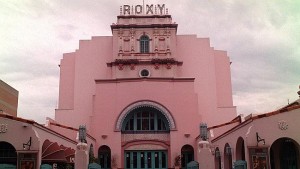 Talks are underway between the theatre owners and Parramatta City Council, which has been a dormant site, which is understood to be supportive of the proposal.
Under the plan, the 1930s exterior of the theatre will be retained in the proposed redevelopment with two pillars built in front to support a residential or commercial tower above.
It is understood the tower will be up to 20 storeys high.
Council sources say the final design of the development was likely to be determined through a design competition opened to interested architects once a formal development application had been lodged.
It is not the first time the theatre has been redeveloped, although it will be the most dramatic.
When owned by Hoyts, the cinema was divided into three before it was sold to Village Roxy.
With the rise of home videos, the cinema failed to thrive, eventually closing before being offloaded to an overseas investor.
The Palace Group bought the site in 2004, before turning part of it into a nightclub and cabaret venue.
Recently, it was the subject of a paranormal TV show, which investigated claims by former works of ghost sightings, including of a broken-hearted usherette and a disgruntled spirit called "Jack" who is allegedly heard on digital recordings claiming to be the owner of the cinema.
An Australian paranormal team also claimed it had detected both a female and male spirit in the building during an "investigation" undertaken a few years ago.
A council source said the tower was in-line with Parramatta's rising skyline.
"The council is not entirely opposed to the concept," a source said.
Ghosts, Hauntings, & Cheap Books: Sign Up For My Monthly Newsletter Today.
<3 Anna