Or, I Can Finally Take A Deep Breath
Though there were lots of tough days when I questioned if I would ever reach 50,000 words before the Nov. 30 deadline, I pulled through and finished my novel right before Thanksgiving. I am so in love with this story, though, that it really wasn't a chore to escape into Ben and Maya's world for a month.
I'll spend December editing and re-writing. Hopefully, I'll soon have good news about the publication of Elixir the first book in the Red Plague trilogy.
Happy Thanksgiving!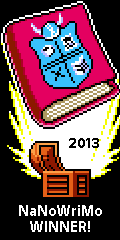 <3 Anna