Or, Let Rachel Ray Plan Your Dinner Tonight
This is the absolute best asian style chicken meal I've ever made. Way better than Chinese take-out and very easy to make. It comes from Rachel Ray's Top 30 30-Minute Meals: Kid Food cookbook. She calls it "Cashew! God Bless You Chicken with Jasmine Rice," but I call it my family's new favorite.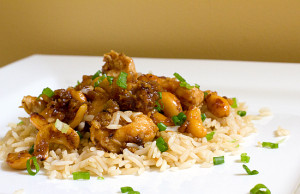 Ingredients:
1 box jasmine rice (or 2 pouches of pre-cooked, ready-to-heat jasmine rice)
1 pound boneless, skinless chicken breast, diced
2 tablespoons sesame oil
2 cloves garlic, minced and mashed (or a couple dashes of garlic powder)
2 tablespoons rice wine, rice vinegar, or dry sherry
Black pepper and red pepper flakes, to taste
1 large carrot, peeled and diced into cubes
1 red bell pepper, seeded and diced
1 can (7 oz) sliced water chestnuts, drained and chopped
3 heaping tablespoons hoisin sauce (from the asian foods aisle in your grocery store)
A couple handfuls of unsalted cashews
3 green onions, thinly sliced
Optional: broccoli florets
Directions:
1. In a large bowl, combine chicken with half the sesame oil plus the garlic, rice wine, red pepper flakes, and black pepper. Set aside and let it hang out.
2. Heat remaining sesame oil in wok or large skillet over high heat until it smokes.
3. Add carrot (and broccoli) and stir-fry for 2-3 minutes. Add the marinate chicken and cook another 3-4 minutes. Toss in the bell pepper and water chestnuts. Heat through for 1 minute.
4. Add the hoisin sauce and toss to coat evenly.
5. Place chicken on a bed of jasmine rice and top with cashews and green onions. Feeds 4.
What I love best about this recipe, aside from its taste, is that with the basic chicken and sauce I can play with the veggies. We don't like green onions, but we like broccoli. My daughter won't eat the bell peppers, but she likes the carrots. Add or subtract until it tastes right for your family.
Enjoy!
<3 Anna