Or, Discover Cole And Talia's Story In The Newest Dark Caster Novel–Spell of Vanishing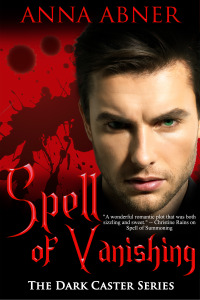 Back Cover Blurb:
Cole Burkov is a formidable necromancer, but waking from a devastating nightmare spell has left him confused about what's real and what's fantasy. Afraid of hurting more of his friends, he casts a vanishing spell on himself, except something goes wrong. He's not invisible to spirits. He's invisible to everyone.
Talia Jackson doesn't want to help Cole cast his vanishing spell. She's too busy trying to collect him for the Dark Caster. But when Cole uses her, against her will, to create the spell she becomes the only human being on earth that can see him.
Together, the unlikely allies will seek out one of the most diabolical casters in the dark cabal—the White Wraith. But when the witch fights back, Cole and Talia discover the only way to survive her furious assault is by working together.
<3 Anna