Or, Photographic Evidence Of A Ghost At Alcatraz
Find the original post here. Or continue reading for the full story.
Ghost Sighting In Creepy Alcatraz Prison
Written in June 2014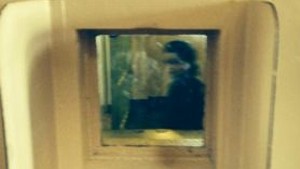 AMERICA'S most notorious prison Alcatraz has been haunted by ghosts for decades, if you believe the whispers.
Now a British tourist, Sheila Sillery-Walsh, claims to have found another eerie figure in a photograph she took at the maximum security prison.
When she looked down at her phone after taking the photo, she noticed a shadowy girl staring back through the window.
The 48-year-old woman was on a tour with her partner through the eerie halls of Alcatraz, an island prison located in the San Francisco Bay.
It held America's worst criminals, such as Al "Scarface" Capone, from 1934 until it closed in 1963.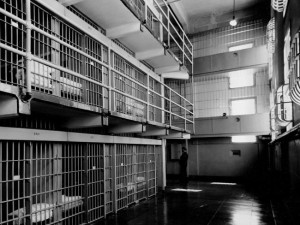 Ms Sillery-Walsh told the Daily Mail she didn't feel comfortable as soon as she entered the prison.
"While doing an audio-tour of the place, I casually stopped to take a snap of the empty visitation block window on my iPhone," she said.
"When I glanced at the photo on my mobile, I saw this dark female figure in the picture. I looked at the window again and there was no one in the room.
"From that point onwards, I wasn't interested in the Alcatraz tour anymore. I just kept looking at the picture over and over again!"
The girl appears to be from the 1930s or 40s — and is not thought to be the reflection of Ms Sillery-Walsh, as she is wearing different clothes, though who she may be remains a mystery.
The couple have tried to find out the identity of the girl, but with no luck. Despite multiple ghost sightings, Alcatraz officials have always dismissed the creepy reports.
Whether the recent claim is a photo manipulation, a strange shadow or something from another world, it may never be clear — but these tourists are convinced they had a glimpse into the spirit world.
<3 Anna
Ghosts, Hauntings, & Cheap Books: Sign Up For My Monthly Newsletter Today.