Or, Read The Story Of The Former Intax Farm
Read the original article here. Or continue reading for the full story.
Was Old House Haunted?
Written by Grimsby Telegraph in July 2014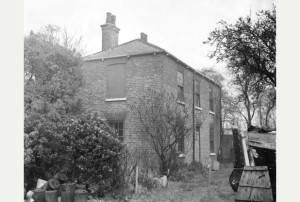 TODAY it is known as Intax Mews, situated off busy Welhome Road and Hainton Avenue.
But how many now realize the story behind the site – or know about the ghost which was supposed to haunt it?
Intax Mews stands on the site of what was formerly Intax Farm on which stood a house for 400 years.
At one time the farm fields stretched from Pasture Street to beyond Weelsby Road and the farmer's neighbors lived at Old Clee, at Nun's Farm and at Highfield.
Intax Farm, was said to stand on the site of a monastery which was pulled down in the 15th Century.
Once a part of the Manor of Weelsby, the farm with the rest of the manor was bought during the reign of Edward III by the Augustinian Abbot of Wellow.
Its name was believed to come from an ancient custom associated with land tenure by which the Lord of the Manor of Weelsby was empowered to enclose a portion of the open fields for his own use.
The Abbot was to become involved in scandal – particularly so when he was found, among other things, to be keeping "a certaine French ladye" in a "handsome dwelling house" in the town.
Over the years the farm on the site had many tenants and at one time was known as Kendall's Milk Farm. Later John A Thomas, a joiner, cabinet maker and undertaker, moved in. Another resident was Mrs Florence Godwin who lived there for 30 years.
And the ghost? Mrs Ada Newell, a daughter of Mr Thomas, who lived there with her husband and her sister told the Telegraph in 1960 that shortly before his death she was sitting with him when she saw "cowled and hooded monks coming two by two" from one side of the room to the other.
The phenomenon, she added, had not occurred again since her husband's death.
<3 Anna
Ghosts, Hauntings, & Cheap Books: Sign Up For My Monthly Newsletter Today.