Or, I'm Starting to Lose My Mind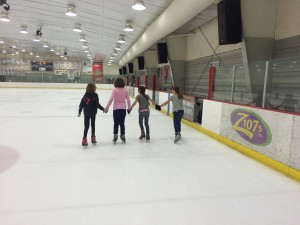 We said good-bye to more friends Sunday. My daughter had a birthday party at an ice skating rink, and had to say good-bye to three of her best friends (and three of the most amazing young ladies ever). I only cried twice. No biggie.
Thank goodness for email, texting, and Skype. It'll almost feel like they're still in the same city.
On top of planning a big party last weekend, I'm now falling behind on absolutely everything else. I literally haven't packed a thing, even though we leave in three days. Mostly because I'm spending a lot of time at end-of-year school activities and scrambling to finish a couple projects I don't want to leave half done.
Tomorrow I have to stop by the dentist for a quick check-up, and then I'll be trapped in an auto repair shop for a couple hours while my truck gets a new set of brakes. Luckily, I'll have my Kindle with me.
I did hear a great idea today from my friend Laura. To help deal with boredom on long car rides, she recommends buying a present for every day of the trip, wrap each one, and don't let my daughter open more than one a day. The best part is, each gift is something crafty and tactile that takes upwards of an hour to complete. Things like modeling clay, a yarn loom, or a design-your-own jewelry box.
I love that idea, though it will take time I don't have to find fun kits, wrap them, and pack them into suitcases I haven't even pulled out of the closet yet.
What do you think?
Ghosts, Hauntings, & Cheap Books: Sign Up For My Monthly Newsletter Today.
<3 Anna