Written by Anna Abner
Copyright 2013 by Anna Abner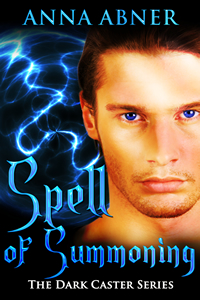 Or, Enjoy A Sneak Peek At Chapter One Of Spell Of Summoning
Cover Blurb
Holden Clark walks into Rebecca Powell's life, a tall, blue-eyed stranger who stirs long forgotten desires. But nothing, including this man, is what it seems. A dark necromancer is targeting Becca for a full-blown demonic possession. She is thrust into a world she never knew existed—a world where dark casters create chaos and necromancers talk to the dead.
Holden has no faith in his power. A necromancer, he communicates with the dead, but he has never embraced his gifts. Now, he has no choice. He must stop the dark caster attacking Rebecca, but accepting this mission means he'll be delving into dangerous magics he's never used before.
Under the protection of the damaged and mysterious Holden, Rebecca will question everything …
Chapter One
April in North Carolina didn't have the sticky heat that would settle over the state during the summer months, but it was warm. Sweat tickled at the back of Holden Clark's neck. But not because of the weather. He'd lied to a woman to get her here.
Well, lie was a strong word. He'd rather say he'd persuaded a woman to join him for lunch under false pretenses. Because he wasn't a liar. In fact, he prided himself on his honesty.
But he couldn't think of any other way to get Rebecca Powell to meet him here. Telling her the truth over the phone was out of the question.
Buster, Holden's yellow Labrador, sat up off the asphalt and whined at an approaching, slow-moving vehicle. This must be her.
A silver Lexus pulled over and parked two spots down in the half-empty lot, giving Holden plenty of room to watch Rebecca Powell through her car windows. Grams was right. No doubt about it, the woman was under a summoning spell, and the demon trying desperately to break into their world clung to Ms. Powell's blonde hair and narrow shoulders like a filthy veil.
"Tell her whatever you have to," Grams said, rounding the hood of his stripped-down 1979 Jeep. "She doesn't have much time."
He leaned against the passenger door, his fingers tightening to the point of pain around Buster's long, braided leash. The air between him and Rebecca crackled with magical energy. The spell on her was no amateurish accident. It was stronger than anything he'd ever experienced. Fear coiled inside him. He couldn't help her. No matter what his Grams said.
With a flip of her hair, Rebecca rose from her car and smiled that big Realtor smile. She looked just like her photo on her website. Pretty, brown-eyed, and about his age, twenty-eight or twenty-nine. She wore her business attire—curled hair, expensive jewelry, short skirt, and heels—like battle armor. It all pronounced her professional, but friendly. Smart, but feminine. A tough southern girl.
Buster's ears perked up. Holden dug in his heels, but Buster was eighty-five pounds of overgrown puppy. He launched himself at Rebecca full force, as if he had springs for feet. The leash jerked out of Holden's hand, and before he could stop him, his dog scratched both her knees, untucked her white blouse, and slammed her against her car. It was Buster's version of a polite "How do you do? Is that a demon over your shoulder?"
"Good Lord," she squealed.
"Buster, no!" Holden wrapped both arms around the dog and lifted him clear off the ground to stop the assault. "Not cool," he grumbled, setting the dog in the Jeep. He secured his leash to the steering wheel, giving him only enough slack to lie down.
"I'm so sorry," Holden said, turning to Miss Powell. "He wouldn't hurt you. He wants to smell—" He almost said the demon. "—you."
Rebecca straightened her light blue skirt, one hand on the car for balance, and smiled, the perfect agent even with dog slobber on her arms.
"He sure is friendly."
She closed the distance between them and the air sizzled. She extended her hand for a shake, but her knees wobbled. The magic written all over her must be taking a toll. She listed to the side.
Holden leapt to catch her before she fell, accepting the brunt of her weight against his chest. She was small and light as a bird, and she smelled like fruit and flowers and something even more delicious underneath.
At her touch, a slice of him long frozen roared back to life. It had been so long since he'd felt anything near to desire that he didn't immediately recognize the sensation.
"Excuse me," she chirped, wrestling free. "I got light-headed for a sec. I've been having migraines."
"No problem." Holden brushed himself off, uncomfortable with so much physical contact. It had been months since he'd been this close to a woman. And he'd never been this close to a demon.
"I'm so embarrassed." Rebecca wiped at the worst of the dirt streaks on her skirt.
Blood bubbled up from a scratch above her knee. Holden pulled a mechanic's rag, the closest thing to a Band-Aid in the Jeep, from his glove box and offered it to her. If only he owned a first aid kit like a normal person.
"I'm sorry," he said again.
"No, thanks." She waved away his rag and handed him a fancy business card with her photo on it. The spell on her crackled, passing him a minor electrical shock. She must have felt it, too, because she snatched her hand back.
"Mr. Clark," she said, "let's get down to business. You said you wanted to sell your house, but you had some questions?"
Right. His cover story. He'd called and offered her a job, insisting on meeting her here at this strip mall for a lunch date at a little Mexican restaurant. But he had no intention of selling the farmhouse he'd inherited from his grandparents. The ruse was the simplest way to get her to The Repository, a store that shared the same shopping center.
"Uh. Yeah."
She narrowed her eyes. "Did you change your mind? Because I'm not feeling very well all of a sudden. I could reschedule." She produced a cell phone and tapped on it. "To be honest, I'm not taking any new clients right now. My associate, Jessa, though…"
Grams appeared at his elbow. "Don't even think about it, bubba."
How did she know he was half a second from accepting the out?
"I can't," he mouthed. "It's worse than I thought."
Rebecca glanced up. "Sorry?" Her smile faltered.
He'd promised Grams to help Rebecca. He'd actually said the words. But if Rebecca refused his help, it wasn't his fault.
Might as well come clean. "The spell on you. It's worse than I thought."
She cocked her head, a strand of honey-blonde hair sliding along her collar. "What did you say?"
Buster whined and strained at his leash, rocking the Jeep.
"The possession spell," Holden said. "The demon."
For a moment she didn't react. Then, very calmly, she put away her phone and said, "I understand." She straightened her shoulders and seemed to grow another three inches, though even in her towering heels she remained half a foot shorter than him.
"Good to meet you," she said in a steely tone. "Have a nice day."
Her first instinct was to dismiss anything to do with the supernatural, but he didn't have the luxury of denial. His whole life was one big supernatural tragedy.
Grams adamantly shook her head at him. She'd given him an ultimatum. Stop the demon from breaking through to their world, or she was leaving. For good.
Last try, and then Grams would have to accept he'd done all he could.
Holden grabbed Rebecca by the wrist, stalling her. "Don't you know someone is trying to possess you with a demon?"
* * *
Fear flashed through Rebecca, momentarily obliterating the constant headache and the pain in her thighs from his devil dog. The man whose arms she'd nearly fainted into was another lunatic. The third psychic in the last month. That must be some kind of record.
But Holden didn't look like a Ouija-loving madman. First off, he showed up to a business lunch in jeans and a T-shirt. He was tall. And young, about her age. And way too handsome.
The fear morphed into anger, granting her strength. She locked eyes with his very, very blue ones. Quite distracting eyes, actually.
"Let me go. Now." She stared him down, willing him to release her without any further fuss.
"Hear me out."
"I don't think so." Becca palmed her cell with her free hand, her thumb poised to hit send on a 911 call.
Holden stepped so close she caught his freshly laundered scent, but Rebecca held her ground.
"Have you been seeing things? Having headaches? Does it seem like a haunting, except it's only around you?"
Did he read minds? Yes, yes, and double yes. She dropped her cell phone into her purse. "My father hired you."
"No."
"Then how—?" Becca blinked and couldn't stop.
She'd hoped today's migraine was food poisoning from the Chinese take-out she'd shared with her staff at lunch, but she'd been suffering headaches for weeks. And the other unexplained phenomena surrounding her had nothing to do with MSG or bad bean sprouts.
The pain at the back of her skull receded, but for a minute there—the one during which she'd fallen into this guy's arms—she'd feared she was having a stroke. Maybe she had.
Holden's voice lowered. "I can see the summoning spell all over you."
"You cannot be serious." Nothing in Becca's life, not her realty courses or the motivational seminars or the "Double Your Sales" DVDs she'd watched last week, had prepared her for this nonsense.
She forced a smile, wishing she had her sister beside her to roll her eyes for. They would jostle each other and giggle and reinforce the absurdity of all this. Because there were no such things as demons or spells or magic or any of it. That was summer movie, cable TV bullshit that didn't translate to the real world.
Except she wasn't so sure anymore. She'd seen so much.
Holden frowned, his gaze crisscrossing her face. "Am I wrong?"
"That's private." She pointed at her car. "I have a lot of work to do." That wasn't true. Not completely. She owned her own office. She made her own schedule.
He looked her right in the eye and leaned in even closer. Way too close. Kissing range close. "A necromancer is targeting you for a full-blown demonic possession. I can help you, if you let me."
Becca swallowed, overwhelmed with the urge to retreat. His body heat rolled over her like a wave. "What do you—"
"I know what's happening because I'm a necromancer, too."
She froze, not sure whether to laugh or get her phone back out and press send on that call. "You're joking."
He freed her, leaving her reeling.
"I was trying to—" Holden shook his head. "Forget it. I'll see what I can do." He tilted his ear toward his vehicle as if he heard something.
Buster popped his scruffy blond head over the passenger door and rested his chin on the sill, but nothing else about the decades old Jeep drew her attention. And she didn't hear a thing.
"What are you going to do?" Becca disliked the idea of Holden Clark investigating her personal life behind her back. "What do you mean?"
"There's a guy in the store over there."
She glanced at the row of shops. "What guy?"
Holden eased farther away. "I'll let you know what I find."
"Whoa," she said, following him. "You're not going over there to talk to some guy about my personal business."
"Then come with me."
Her logical mind urged her to get as far away from Holden Clark as possible. And fast. She'd taken a self-defense class. Distance and crowds were two important assets. Right now, she had neither.
But what if he wasn't a lunatic? What if he was right?
She was already here, and she had nothing to do the rest of the day but sit in her mostly boxed-up office or go home to her too-small apartment, the second one she'd moved into in the last three months, and eat alone.
Then he went in for the kill, aiming the full strength of those blue eyes on her. "There's a summoning spell on you. I want to get rid of it."
"Not possible."
But Becca couldn't lie to herself. Some too-weird-to-be-believed shit had been going on for a while. It was the reason she lived in a tiny, slightly toxic-smelling one-bedroom apartment instead of her real house on River Road. This wasn't all make-believe. Those chairs hadn't moved themselves.
"Without help it's only going to get worse."
Worse wasn't an option. Worse was stroking out during her morning commute. She couldn't do worse.
"Does this guy have a name?" she asked.
Holden cracked a small, approving smile, and his features softened. She was struck, again, by how handsome he was.
"Cole Burkov. He has experience with dark magic."
"Is he a friend of yours?" she asked.
"Sort of. But the point is he knows a lot about spells."
Becca bit her lip and then went with it because not only was her schedule flexible for the first time in ten years, but if her issues weren't supernatural, then it was CAT scan and blood work time. The very real possibility that she was suffering from a brain tumor was always sitting there in the back of her mind, terrifying the living daylights out of her. And she'd much rather deal with a pesky spirit than chemotherapy.
"Fine. You got me here. Let's see what he has to say."
Because, yeah, Mr. Clark was probably a head case, but how else to explain the headaches, the nightmares, and the electricity glitches?
She glanced at the fluorescent lamp pole arcing above their heads, but it held steady. No light shows today, then.
Holden secured his dog, and Rebecca pulled an off-white cardigan from her trunk. It would cover the gritty paw marks on her clothes. As she pushed her arms through the long sleeves, she made a promise. Five minutes with Cole Burkov, and then she'd return to her office. That was long enough to decide whether Holden was on to something or a frustrating waste of time.
Of the two other psychics that had tracked Becca down at work, neither had mentioned a necro-whatever or a demonic possession. Their conversations had run more toward blocked chakras, sage smudging, and EMFs. They'd been equally earnest in their conversations and only slightly more ridiculous. And each had brought up forms of payment in nearly the same breath as "Hello, nice to meet you." At least Mr. Clark wasn't asking for money. Yet.
Holden got his dog out of the Jeep, a stronger grip on the leash this time, she hoped, and gestured for her to proceed.
She faced the storefronts. Not exactly voodoo country. Where were the Spanish moss and rolling fog?
"So," she said, "which is the collection of dark and unknowable magics—the fast food Mexican place or the ice cream parlor/arcade?"
He eyed the row of family-friendly establishments. "It's the comic book shop."
The dog surged toward Rebecca, straining at his leash and dancing up on his hind legs. He was obviously biding his time until he could jump all over her. She gave him a look that said, "Try it, and I'll hobble you."
"Who's your fine young gentleman?" Rebecca asked.
"Buster. I hope you don't mind, but he doesn't like being alone."
Mind? "Of course not." She grabbed her bag, locked the car, and marched ahead in her heels and turquoise pencil skirt, her cardigan hiding most of Buster's little gifts.
Holden led the unrepentant Lab across the parking lot, keeping barely enough space between them to prevent further assault. The dog couldn't belong to anyone but Holden. Neither one had a clue about personal space.
"What is a necromancer?" Becca asked, quickly outpaced by Holden's long strides.
He paused on the sidewalk for her to catch up. "I see spirits. Deceased persons."
"You see dead people." She fought a smile. "You're obviously a movie fan. So, is that like a magician?"
"I'm not sure magician is the right word."
He settled Buster in a shady spot under the store's front windows and poured water from a bottle into a stainless steel bowl. The little devil tilted its head up and stared at Holden with an expression of pure adoration before belly flopping on the warm concrete. His tail thumped twice, and then he fell asleep.
"You're good with him." It wasn't right to be jealous of a well-cared-for animal. Becca looked after others, but there wasn't a single person who took care of her. Not her sister, not her dad, and her mother didn't count. If she had time for a boyfriend, maybe he would, but she didn't, and there was no point in dwelling on all the reasons why she didn't.
Holden pulled open the shop's glass door and held it for her.
Tall wall-to-wall shelves ringed the interior of the store, which smelled like books and Mexican food. Three men played a dice and card game at a table in the corner, a teenage girl flipped through back issues, and a twenty-something guy stood at the cash register, his nametag pinned to his dark blue polo.
"We have to go," Becca whispered. "They don't have magic. They're role playing."
Holden grunted.
A dark-haired young man wearing a company shirt stared hard at her and then headed right for them. "Freaky. It's like you have your own personal storm cloud. Demonic possession?"
Holden had probably called this guy on the drive over and prepped him for their little con game if that's what this was. And there was a good chance that's what it was.
"Rebecca Powell." She extended her hand for a quick shake, reflexively passing him her card.
"Sure." He frowned at Holden. "Let's talk in the back room."
"And your name is?" she called after them. No answer.
Damn them. She knocked her knuckles on a glass case dedicated to Buffy, the Vampire Slayer. The stake-wielding blonde glared up at her from the cover of a glossy graphic novel.
This was a mistake.
Becca checked her watch. Three minutes down. Two to go.
Quiet conversation in the store picked up again. She didn't mind being the center of attention—her job encouraged it—but this didn't feel right.
"Hi." The cashier stepped into her periphery. His nametag read Justin.
"Hello." Smiling sweetly, she handed him her card. "Rebecca Powell. Nice to meet you."
He traded her a plastic-encased comic book. Leaning in, he whispered, "You're welcome." He stared meaningfully at the book and then wandered to the checkout area.
She glanced at the comic in her hands. A group of teenagers under the Statue of Liberty raced across the front cover of Runaways.
Time's up.
She set the book on a shelf and marched for the closed door marked Private—No Exit. Nobody tried to stop her, and she let herself in. Groups of used candles, posters of big-breasted superheroines, and crates of comic books surrounded Cole and Holden. No ancient tomes or long wands in sight.
Becca crossed the threshold, and her ears buzzed. The air hummed as if she were standing beside an electrified fence.
Cole stopped talking midsentence, and both men stared at her.
The lightning storm in her brain intensified, worse than ever before, and her instincts screamed at her to escape.
The shelf beside her rattled.
Rebecca pasted on a smile, cloaking herself in professionalism. "What have you come up with?"
"Go back into the store," Holden snapped, a twinge of panic in his voice.
Just what were they doing in here?
She stepped into the room. And the whole building shook.
Download the full novel from Amazon HERE.
Like Cheap Books? Sign Up For My Monthly Newsletter Today.
<3 Anna