Written by Anna Abner
Copyright 2014 by Anna Abner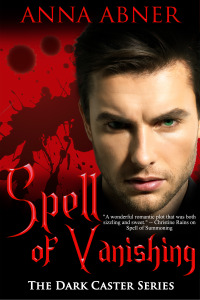 Cover Blurb
Cole Burkov is a necromancer, but waking from a devastating nightmare spell has left him confused about what's real and what's fantasy. Afraid of hurting more of his friends, he casts a vanishing spell on himself, except something goes wrong. He's not invisible to spirits. He's invisible to everyone.
Talia Jackson doesn't want to help Cole cast his vanishing spell. She's too busy trying to collect him for the Dark Caster. But when Cole uses her, against her will, to create the spell she becomes the only human being on earth that can see him.
Together, the unlikely allies will seek out one of the most diabolical casters in the dark cabal—the White Wraith. But when the witch fights back, Cole and Talia discover the only way to survive her furious assault is by working together.
Chapter One
Rough asphalt dug into Cole Burkov's knees, but he couldn't remember why he'd knelt in front of a burned down church in the first place. His memory was in tatters, made up of a pinch of nightmare, a dash of reality, and a whole lot of lost time.
Blood was what brought him back to himself. The old, itchy blood on his hands and the fresh, slimy blood smeared across his left forearm, obscuring the line of scars of varying ages running up his wrist like railroad tracks.
When he cast magic he was always careful to cut shallow slices, but maybe sometime during the night, lost in his muddled memories, he'd cut himself too deep.
He couldn't remember.
Cole sucked in a deep breath, hoping the rush of humid, North Carolina air would stimulate his memory, but it only made him dizzy.
Something wasn't right.
As he gazed up at the charred skeleton of a former religious building, he got the funny feeling he was supposed to be doing something. That he wasn't there on his knees by chance.
But the only other living being in the vicinity was a large, ebony crow peering at him from a willow tree at the edge of the parking lot. Crows were bad luck. One in a churchyard was an omen of death. The bird flapped its wings once and took flight, soaring low over the parking lot before disappearing behind a brick wall.
"Cole!" A familiar ghost appeared in front of him, her face a mask of agony. He'd never seen his spirit companion Stephanie so distressed. "I found Dani. She's coming. Can you hear me? She's on her way. Just hang tight and everything will be okay."
Daniela Ferraro. His friend. The witch.
Bits and pieces of the last few days resurfaced. He'd strangled Dani in a hospital room and then escaped, hiding out on the streets and in the woods ringing the town. The night before he'd slept sheltered among a copse of pine trees behind Auburn's movie theater. The night before that? Hard to say. He thought the clothes he wore, black scrub bottoms and a yellow smiley face tee, were castoffs from the hospital. Or maybe that was part of the nightmare spell. Maybe he'd never been inside a hospital.
Either way, unable to suffer the guilt a moment longer, he'd come to the Dark Caster's last known gathering place to face him. Or join him. That, too, was vague.
Of course the bastard wasn't there.
But if Dani was on her way it meant one of two things. Either he was still in the nightmare spell and Cole would be forced to kill her again when the evil inside him rose up, or he hadn't killed her and she'd try to stop him from going to war with the Dark Caster.
Neither of those things was going to happen.
"Tell her not to come," he said. "Tell her not to come anywhere near me."
* * *
Cole Burkov didn't look like much of a threat. Talia Jackson had seen homeless people with better personal hygiene.
Black hair made even blacker with days of clinging dirt and grime. Chalky pale skin peeking out of secondhand clothes. Dirty, bare feet.
But she did what she was told, the way she always did, and got out of her car. She straightened a pair of barely-there shorts and a new gray tank top. Even after midnight, late April in North Carolina was muggy, and tendrils of cinnamon curls stuck to the nape of her neck.
She crossed the parking lot, her flip-flops kicking up ash and bits of charred wood from the meetinghouse's remains. Creepy place. She'd been sent there by one of the Dark Caster's messenger spirits, Johanna. Not on his orders, though. No, the White Wraith herself had organized this pick-up. And, to be honest, Talia was much more afraid of the wraith than she was of the DC, the Dark Caster himself. Witches freaked her out.
Of course, Talia had never actually seen or spoken to either the big boss or his right hand woman. It didn't matter. Their reputations were enough to give her nightmares.
Fear of them both was the only reason she stood in the remains of their meetinghouse. To say she was there willingly would've been one heck of an exaggeration. She was there because her nephew was being held by the dark cabal—a sinister group of followers of the Dark Caster—as living, breathing collateral. And Talia was terrified of what would happen to him if she refused.
Burkov hadn't noticed her yet. He had his back to her, studying something on the ground.
According to Johanna, he was a valuable asset. Or a target. It was difficult to guess the cabal's true motives sometimes. All Talia knew was she was supposed to get over there, ASAP, never mind the time, and acquire the scraggly bum with the crazy eyes and bare feet. His spirit companion, an equally nonthreatening soccer mom type, blinked erratically around his periphery like she had a short in her wiring.
Talia really needed this assignment to go smoothly and for Burkov to get in her vehicle without a fight. Because this was one more notch on her Must Impress the DC belt, and one step closer to finding her nephew Sylvester.
"Miss, you must put him to sleep," Hugh whispered at her. Her spirit companion did not trust strange men. Annoyingly old-fashioned, he still fussed when she went out in public unescorted. "Do not give him a chance to speak. He may hurt you before you can protect yourself."
Talia had drawn an emergency spell circle on the roof of her Honda two-door for just such a contingency. She may need it tonight.
The simplest course of action was to put Burkov to sleep—against his will—drag him into the backseat of her car, and then dump him on the Carver's front lawn.
But she didn't do any of those things.
"Cole Burkov?"
He faced her, and only then did she see the dried blood up both arms to the elbows. God, what kind of magic had he been casting? The sight of so much blood triggered a memory. The Carver had warned her Cole was seriously, ridiculously, take-no-chances dangerous.
She slid a step in reverse, her breath freezing in her throat.
"You're not the Dark Caster." He scratched at two days' worth of whiskers. "Are you?" But he didn't go for a weapon. He didn't draw any glyphs.
So, she straightened her shoulders like she would with any big-mouthed freshman. Once a less than impressive fourteen-year-old had sneered at her, "I don't have to listen to you. You're just the school nurse." He'd quickly learned disrespecting her was more trouble than it was worth.
"He sent me to collect you. My name's Talia Jackson. My car's in the lot."
"Don't be an idiot," the spirit in workout clothes shouted at him. "She's a liar. She'll say anything."
"I'm not a liar," Talia grumbled, stung. She'd done terrible things, but she'd never lied.
"Shut your mouth," the ghost snapped. "You don't care about him the way I do. And he's not going anywhere." She turned on Cole. "Listen to me. Just hang on for a little while longer. Your friends are coming."
The threat of his so-called friends made Talia nervous. She wasn't strong enough of a caster to overpower him and his cohorts, too. And if she failed to deliver Cole to the Carver…
The repercussions were too awful to contemplate.
Cole waved the ghost away like swatting a buzzing insect. "Who are you?" he demanded of Talia.
"Talia Jackson," she said again. Nervous, she blew sticky auburn curls from her brow, and then glanced over her shoulder toward her car and the spell circle on its roof. "I'm a member of the dark cabal. I was told you'd be here. And I'm kinda in a hurry."
He stumbled nearer, blood dripping a trail from his fingertips. So near she could tell his eyes were an intense shade of green.
"That's close enough," she warned. Ill or not Talia didn't trust him to play nice. All the other people the DC had introduced her to had been criminally insane. She had nothing to convince her Burkov was any different. "I will protect myself, if I have to."
He produced a bloodstained pocketknife and cracked it open.
Screw it. She reverted to plan B.
Quick as a cat, she scrambled up the windshield of her car. Even though the roof creaked in complaint and dipped beneath her feet, it was worth it to stand surrounded by spell marks. Magical power tingled in her fingertips.
"Miss, I don't like the look of this man," Hugh said softly as he hovered at her side.
Neither did she. "Stop," she shouted at Cole. "We're only doing this my way." But he didn't stop. "Please don't make me do this," she muttered. She didn't want to put him to sleep. She didn't want to hurt people anymore. And without the Carver, his buddy Jeff, and their spirits standing over her goading her on, she faltered.
Cole squinted up at her as if he could read every thought, every criminal act, and every doubt in the contours of her face. "You don't work for the Dark Caster."
"I do." Not by choice, but that was none of his business. "And he is anxious to meet you. If you will please get in the car, I'd really appreciate it." At any moment reinforcements may roll up, incapacitate her, and run off with her target. Seconds ticked by, and she bounced a little in frustration.
"You don't seem like you practice black magic," Cole said, staring hard with those penetrating green eyes of his.
"I'm a casting all-star," she bluffed.
He made a grunting noise. "If you say so."
"Well, I do." She only bent the truth a little. She may not be the best necromancer in the world, but she'd been born one and that made a huge difference.
He caught her eye, and she had the unsettling feeling he was leveling with her. Maybe even trusting her a tiny bit.
"I'm not going to hurt you, as long as you don't cast on me," he said. "Deal?"
She believed him, which was absurd. She didn't even know him. And he had all kinds of reasons to want to hurt her.
"I guess."
When she started to get off the roof of her car, Cole held up a hand to stall her. "I need a favor first."
She didn't want to perform any favors, have any conversations, waste anymore time. But he'd piqued her interest. She couldn't help herself.
"What kind of favor?"
"I need you to help me with a healing spell, and then I'll go with you."
Not a bad compromise. "Okay. Just do it quick. This place gives me the creeps." She may as well have been trampling over fresh graves. Odds were no one had died on the property, but it felt like they had.
He pulled a black marker from his pocket and paired it with the knife.
"Cole Burkov, are you listening to me?" His spirit sounded a bit like an aggravated mother, which amused Talia.
Unperturbed, Cole drew a spell circle, but then he did something Talia had never seen any caster do. He used his very unsanitary looking knife to slice the tender skin of his left forearm, and fresh blood pooled.
"Why did you do that?" she exclaimed. The guy couldn't afford to lose any more blood. In fact, he flattened one hand on the pavement to remain upright.
"I'm fine," he mumbled, though that didn't exactly answer her question.
"Please, Cole!" His spirit broke down and wept with undisguised anguish. The type of grieving wail Talia's mother had made after her eleven-year-old grandson had been abducted.
Just to end the agony, Talia cast an amplification spell at Cole.
Different spells affected her in unique ways, but they all began as a tingle in her extremities, and this was no different. Then, as Hugh fed her more power, an electrical current flowed up from her fingers and toes.
Nothing strange there. Not until Cole channeled both his spirit and Talia's. He soaked up her juju like it was an oil spill and he was made of paper towels. He dragged raw power out of her by the roots, and she winced. It felt like he was tearing the skin off her bones.
She should've known he wouldn't be so greedy with her magic for a simple healing spell.
Rather than mend his cuts and bruises, he rounded on his spirit companion. "Sorry, Steph. I need some time. Vanesco," he said.
Talia didn't speak Latin, but no way had Cole cast anything helpful or soothing.
The vibrations of Hugh's power died down. The pulling sensation ceased.
"Cole!" Steph sobbed, seeming to lose sight of him in the dark parking lot. "Goddamn you, Cole!" She sent Talia a final, scathing look, and then disappeared.
Talia, though, had no trouble whatsoever seeing Cole. "You used me," she accused. "I don't appreciate being tricked, Burkov. I should turn your eyes inside out for that. What spell did you use me to cast?"
"A vanishing spell," he admitted.
Oh, that was new. She slipped her cell phone from her back pocket and opened a journaling and sketching app she really liked for studying spells. It gave her the freedom to draw glyphs with her fingers and add captions with the on-screen keyboard as well as attach photos.
"What was the Latin word you used?" She tapped a quick summary, and then snapped a pic of the glyph on the asphalt.
"I'll tell you later." He stood, weaved, and took a knee. "Sorry I couldn't be upfront with you, but Steph wants to help me, which means stopping me." He blew out a long breath. "I don't want to be helped."
He'd made himself invisible to all spirits, even his own. Tricky, tricky fiend.
On his second attempt, Cole climbed to his feet. "You said something about a car?"
Blood dribbled over his palm and rained upon the ground. But he did nothing to stop it. Like he didn't care if he bled to death. Like it might be a relief.
"Cover that cut, would you?" Talia put away her phone and hopped off the roof. "Your blood pressure must be in the toilet."
Without a word, he pulled his T-shirt over his head and wrapped it around his left arm. Talia froze, absorbing the sight of him unexpectedly bare-chested. He was on the thin side, but that only accented the ridges and plains of his torso. His wide chest had a fine covering of dark hair trailing down and disappearing beneath the waistband of his pants.
"This your car?"
"Yeah." She forced herself to focus. "Get in."
* * *
"Becca?"
Rebecca Powell rolled to the left, expecting to find a warm body to curl into. But Holden's side of the bed was empty. The sheets were still warm and smelled of his skin, though, and she burrowed deep under the comforter. Her nagging to-do list attempted to break through her consciousness. So much to finalize. Especially if she and Holden Clark were ever going to open a second Sparky's diner on the far side of Auburn. But she mentally pushed those thoughts away.
Later.
"Becca, you have to get up."
She mumbled something to convey that it was still dark out and she'd much rather sleep until at least dawn after the workout he'd given her the night before. Muscles she didn't even know she possessed ached. But in the very best way.
The bed rocked under his weight, and a gentle hand pulled the silken sheets below her face. She scrunched her nose. No fair.
"Believe me, there's nowhere else I'd rather be than in this bed with you, but Dani just called," he said. "She's freaking out. She and David got word Cole is at the cabal's meetinghouse, which is closer to our end of town than hers. He needs help."
Rebecca sat up, fully awake. "Is he okay?"
"She's not sure, but she basically ordered me to get my ass over there and pick him up, whether he likes it or not."
"Of course." She scurried out of bed and dressed in the clothes she'd tossed onto Holden's bedroom floor the night before. "Let's go."
When she'd been in desperate need of support Cole Burkov had been there for her. He'd woken Holden from a hellish nightmare spell while Becca had been helpless. She would do anything for him.
"Who's Cole?" asked the snarky female spirit that had been haunting Becca for days. She lurked in the corner between the dresser and the master bath, her head cocked to one side.
Rebecca refused to answer. Her strategy so far had been to ignore the ghost and hope it simply faded away.
Holden, though, worked off of different instincts. "How long are you gonna ignore Jolie?" he asked gently. "She just wants to get to know you."
She didn't know how to explain to Holden the feelings churning inside her.
Becca remained silent as she followed him outside and climbed into the passenger seat of his stripped-down Jeep.
Ignoring people was becoming second nature. Luckily, he didn't seem bothered by it.
"Last I heard Cole had woken from a nightmare spell like yours," she said as he rolled the vehicle onto the street. "And disappeared. Anything I'm missing?"
"I don't know." His mouth compressed into a tight line. "I remember how disorienting it was coming out of that spell. I couldn't tell what was real. And he was in it for a lot longer than I was."
"I hope he's okay," she said, but Cole's loitering around the Dark Caster's meetinghouse said otherwise. What reason could he possibly have to go there?
Turning her palms up, she studied them. She'd accessed her new necromancy powers once. To save Holden from Derek Walker, a top member of the dark cabal. But she hadn't tapped it since. Honestly, she never wanted to again. If there were a pill to take necromancy away, she would swallow it. But it wasn't so easy. For the rest of her life she'd be able to cast magic and see spirits of the dead trapped on earth. Whether she liked it, or not.
"We'll make sure he's okay," Holden promised. "I owe the guy."
But when they drove into the parking lot of the burned out building, the whole place was deserted.
"Damn it," Holden swore, hitting the steering wheel. "Dani's gonna kick my butt."
Becca snickered, couldn't help it, imagining the tiny woman fighting a full grown man, but Daniela's power didn't lie in her physical form. She was a witch. And terrifying.
She stifled her laugh.
"Some chick came and picked him up."
Becca jumped at the sound of the young man's voice. She'd never get used to spirits popping up at random times.
Tony, David Wilkes' teenaged spirit companion, appeared beside Holden. Dani and David were spending a lot of time together and sometimes sending a spirit messenger was faster than a phone call.
Tony added, "Dani told David to tell me to tell you—"
"We get it," Holden snapped. "Where is Cole?"
"On the move. Dani's meeting us. I'll navigate." As if he were corporeal and not a hazy image, Tony swung into the back seat and pointed north. "It's up Western."
"This lady," Holden said, "who was she?"
With the wind whipping around the cab of the Jeep, Tony's reply was no more than a whisper in Becca's ear. "I don't know her, but she drove off and no one's seen Cole since."
Download the full novel from Amazon HERE.
Like Cheap Books? Sign Up For My Monthly Newsletter Today.
<3 Anna