Or, Meeting Ian Somerhalder
I can't stop smiling after The Vampire Diaries convention in Burbank last weekend! I not only got to hear panels from stars of TVD and The Originals, but I actually got to meet and talk with Ian Somerhalder, Damon Salvatore himself! It was a dream come true.
Back when Buffy the Vampire Slayer was still on the air, I went to my first fan convention in Pasadena, CA and had my photo taken with Buffy's bad boy vampire, James Marsters (Spike).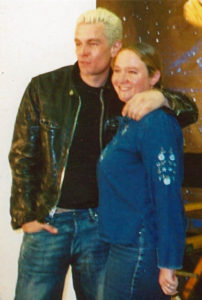 Sunday, I ran into Damon and Stefan Salvatore (or their cardboard lookalikes). I wonder if they're actually that tall?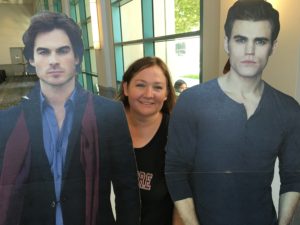 Before the show, Ian was spotted looking amazing. The photo caught him in the middle of a friendly, "Hello guys."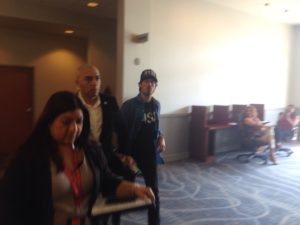 First up, Michael Malarkey (Enzo) and Chris Wood (Kai). They spent the entire panel making jokes, singing, and beatboxing. It's too bad their characters never shared a scene on The Vampire Diaries because they were hilarious together.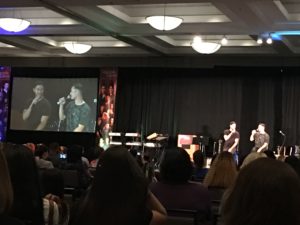 Finally, Paul Wesley (Stefan) and Ian Somerhalder (Damon) took the stage at the end of the day. Though they must have been exhausted, they remained upbeat as they answered fan questions they've probably answered a hundred times already ("Which season of the show was your favorite?" Ian => season 1, Paul => season 3, "What is your favorite ship on the show?" Ian & Paul => Stamon LOL, and "If you could only eat one food the rest of your life what would it be?" Ian => dark chocolate, Paul => vegan cookies.)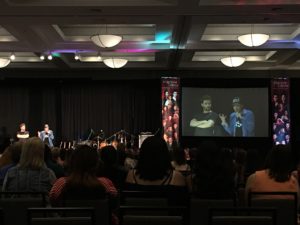 Then, the highlight of the day (maybe the year)–cozying up to Mr. Somerhalder. He was so charming and polite, giving each lady in line (and there were hundreds) personal attention. He gave me a high five for being a writer and made us all, in the ten seconds or so we stood next to him, feel special.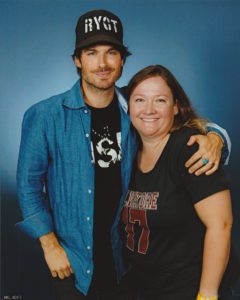 Afterwards, I was slightly euphoric.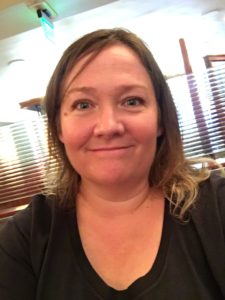 Attending the convention was so much fun. I've been a huge fan of The Vampire Diaries from the very beginning (I watched the pilot at Comic Con before it aired and attended the panel when Ian Somerhalder was famous for playing Boone on Lost and I didn't really know who Paul Wesley or Nina Dobrev were. I adored the pilot, though, and immediately started reading the books in preparation for the TV premiere that fall.)
Here are my two bad boy vampires. I feel so lucky to have met them both. Their characters and storylines have definitely influenced my writing, including the Beasts of Vegas Series, and my career.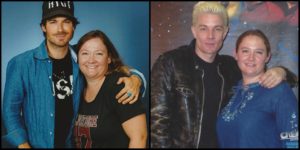 Ghosts, Hauntings, & Cheap Books: Sign Up For My Monthly Newsletter Today.
<3 Anna