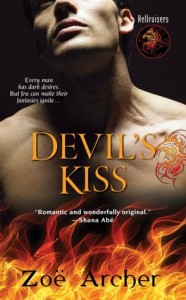 Cover Blurb:
1762. James Sherbourne, Earl of Whitney, is a gambling man. Not for the money. But for the thrill, the danger–and the company: Whit has become one of the infamous Hellraisers, losing himself in the chase for adventure and pleasure with his four closest friends.
Which was how Whit found himself in a gypsy encampment, betting against a lovely Romani girl. Zora Grey's smoky voice and sharp tongue entrance Whit nearly as much as her clever hands–watching them handle cards inspires thoughts of another kind. . .
Zora can't explain her attraction to the careless blue-eyed Whit. She also can't stop him and his Hellraisers from a fiendish curse: the power to grant their own hearts' desires, to chase their pleasures from the merely debauched to the truly diabolical. And if Zora can't save Whit, she still has to escape him. . .
My Thoughts:
Full disclosure–I stopped reading this book at the 50% mark when I lost all sympathy or interest in the hero and heroine.
However, I really enjoyed the first half. The author's attention to detail is incredible. Her story is full of magic and the supernatural while at the same time rooted in a realistic historical setting. I chose this book specifically because it was recommended to me as a great example of the historical paranormal genre, which I'm very interested in. And I got into the story, but at some point I just lost interest. At the 50% mark the "magic" binding the hero and heroine together was gone. They were a couple, and it was obvious their major relationship roadblocks were gone. They were sexually attracted to each other. And they were each the most important person in each other's lives.
Basically, the stakes were gone, and I gave up. Perhaps the conflict would have picked up again, but to be honest, I felt like the story was over and I wanted to move on to a new book.