Or, What Happens When You Use Stock Photos For Your Cover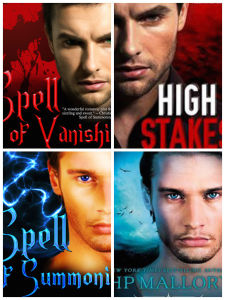 During my recent book tour for Spell of Vanishing a reader pointed out the male model on the cover of Spell of Summoning is the same as on the cover of HP Mallory's Sinjin. And then during the same tour I found an almost identical cover for Vanessa Waltz's High Stakes as the Spell of Vanishing cover I paid a designer to put together for me.
Insert forehead smack.
But what's an indie author to do? I can't afford to photograph my own models or hire artists to create covers from scratch, so I have to use stock photos. Just like almost every other indie author. I suppose, with only a few stock photo sites, it's inevitable that two authors will choose the same model or graphics. But it still stings when I see it happen.
Are you feeling my pain? lol
<3 Anna