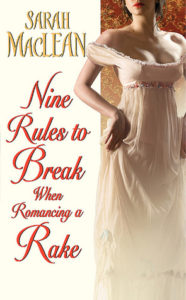 Back Cover Blurb:
A lady does not smoke cheroot. She does not ride astride. She does not fence or attend duels. She does not fire a pistol, and she never gambles at a gentlemen's club.
Lady Calpurnia Hartwell has always followed the rules, rules that have left her unmarried – and more than a little unsatisfied. And so she's vowed to break the rules and live the life of pleasure she's been missing.
But to dance every dance, to steal a midnight kiss – to do those things, Callie will need a willing partner. Someone who knows everything about rule-breaking. Someone like Gabriel St. John, the Marquess of Ralston – charming and devastatingly handsome, his wicked reputation matched only by his sinful smile.
If she's not careful, she'll break the most important rule of all – the one that says that pleasure-seekers should never fall hopelessly, desperately in love….
My Thoughts:
I have yet to read a bad novel from Sarah MacLean, and 9 Rules to Break When Romancing a Rake is no exception. It has almost every regency cliche and trope you can think of, which actually made it really fun. Callie is a wallflower looking to spice up her boring existence with a list of nine things proper ladies should never do. She's also secretly in love with the rakish and handsome Marquess of Ralston. Luckily for them both, they keep running into each other so that Ralston ends up helping Callie with her list. Along the way they deal with the heroine dressing as a man, gentlemen's clubs, duels, wagers over women, fittings at a seamstress' shop, lots of shopping, love matches, kissing in alcoves, the theater, de-flowerings, and balls. Everything important happens in front of the entire ton at someone's fancy ball.
My only critique is that the middle 25% lost some of the beginning's excitement, and I skimmed over that section. But the pace and tension picked up in a big way in the final 30% of the novel. I couldn't put it down, I was so eager to read the end.
There's also a subplot about Ralston's Italian half sister that really goes nowhere. I assumed she was introduced so that she can be the heroine of a future novel.
9 Rules to Break When Romancing a Rake was a fun, fast-paced read, and I'm so glad I downloaded it.
Ghosts, Hauntings, & Cheap Books: Sign Up For My Monthly Newsletter Today.
<3 Anna