Or, Take A Peek Inside A New Zealand Haunted House
You can see the original article here.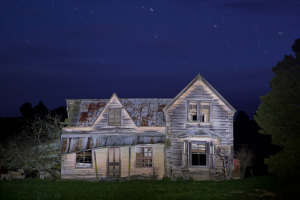 How Haunted is the Hoult House?
By NAOMI ARNOLD AND ALDEN WILLIAMS
This old house is high on a river terrace, built on the bones of a totara forest. We'd seen it one night and stopped to knock on the door of its neighbour, the trim, shining, former Wai-iti School headmaster's home.
It was late; raining. Through the glass we saw a woman scold her yapping dog. She answered the door in a pink dressing gown.
"Hello," she said, then: "The old Hoult place. You'll be wanting Linesy."
He wasn't far away. Just next door, actually, in a shed in the middle of the hop gardens and grapevines, having a drink at day's end with the rest of the men. Including her husband.
Across the fences, inside the shed, there was beer on tap and aerial farm photographs on the wall and caps hanging from a beam. There was an air of permanence, of roots pushing into the soil for generations. There was the yeasty, stale smell of beer. Linesy's got a day's stubble and thick salt-and-pepper hair that might have been under a hat all day.
"The old Hoult house," he said. It used to be home to the seasonal hop-pickers, back when he was a kid. He still remembered when the first sheet of roofing iron blew off.
"I should have gone in and nailed it down then," he says. "Never did." That was 25 years ago. So the rain got in, and then the wind and animals took care of the rest of it.
He broke down the old chimney and sold the bricks, which meant the north end fell in. Parts of the range are still there, under all the timber.
"I wish I had a couple of dollars every time it's photographed," Linesy said. "Or a couple of bottles of wine from every wedding that's taken pictures out there."
Yes, we can go in and have a dig around, he said – but only if we put in a plug for his company. The men in the shed grinned. He gave us a sticker, a business card. There was the old Hoult house, with a wooden sign hanging on its drooping verandah: Totara Brewing Co. New Zealand's only hop farm and brewery. The slogan: Taste of the past.
He said: "Wanna beer?"
There's an entire valley named after the Hoults.
This old family home has been here for 155 years, since the days when the Waimea Plains were freshly shorn of their totara, kahikatea, rimu, beech. Under the sheep, under the pasture, the ground is full of totara seeds. There is no getting rid of them. They still split open in the dark, kick out a shoot, crack the soil and push up through the grass.
The original Hoult, Joseph, arrived in Nelson on the Prince of Wales in 1842, not long after the first batch of English ships had nudged into the Haven. He moved to Wai-iti, started milling trees, and raised a family, his sons eventually joining him in the business.
He built the house for his oldest, also named Joseph, who took his new bride Maria to live there in 1859. A good Catholic, Maria bore four children in five years – but the last, a baby named for his father and grandfather, died at six weeks old.
The solution came in the form of his mother-in-law, Honorah, who he brought out from England to help with the children. He married another Honorah a year later, and she bore her own baby Joseph – then Maud Mary, William, Robert, Albert, and Constance. The mother-in-law stayed for 20 years to help raise all nine children until she died in 1886.
They would all have sat on this front verandah, and looked out across stumpy pasture to the hills. They would have run around the house chasing each other, watched the trees around them coming down, gone to school, seen a new settlement in its infancy. Their verandah roof is sagging now, and surely can't be more than a few winters away from collapse. But people have been saying that for years.
"Don't breathe on it," Linesy had said. "Don't sneeze."
The house itself is little more than a balsa-wood model of a home – the slightest nudge of a finger might send the whole thing sliding over. We go in the back, and step straight through the gaping living room wall to stand there on piles of shit-strewn timbers and sacks, to look clear through the second storey to the roof. The second floor, along with the living room wall, was knocked down to store hay.
Scrim hangs in strips from the timber walls, though there are still scraps of pale blue wallpaper up high. Some small, pretty white window latches remain, but every pane of glass has gone, save for a dirty third clinging to the sash in the living room. There's an old animal hutch on the floor, twists of pipe and piles of hay. A bathtub. The roots of a tree have thrust into the collapsed kitchen wall, where the chimney's gone. On the western wall, someone has cut their names into the old flowered wallpaper: CAROL ANDERSON 1967. ANITA PETERS 1967.
Here, perhaps, was where Norah Hoult sat by the fire in the winter of 1896 and stitched a Bo-Peep costume for her youngest daughter Constance, for the fancy-dress ball at Wakefield's Baigent's Hall that year. Connie might have baked scones here, too. Still a Miss Hoult when she was 22, she took out first prize for six of them at the second annual Waimea Horticultural, Industrial, and Poultry Association show in 1904.
Gingerly, we go up the narrow, ladder-like stairs to where the family once slept. There are still beds with coiled wire bases, double and single; maybe left behind from the Lines' hop-pickers. The northern bedroom is open to the air, the floorboards leading straight out to the open sky. We shuffle over them to peer at the boards lining the sloping roof, and see faint pencil scratchings in neat cursive. It's quite a jolt to read them and realise that Norah's children were actually here, crouching on a bed maybe, on a rainy day, and writing their names on this ceiling on a Sunday in August 1897.
Maybe it was all of them. Or maybe just Robert who wrote them – "R. Hoult" is inscribed several times. There's also "A. Hoult", "Connie Hoult", "Maud Hoult", and "Joseph Hoult", preserved up here in the bedroom for nearly 120 years.
When their father died in 1910, a correspondent to the Colonist described him as another "old and worthy settler". He willed the house to Norah, who lived there until she died there in May 1914, just a couple of months before World War 1.
Joseph had left instructions that upon her death the old house was to be sold and the money given to his sons. The clan is buried now in Wakefield's St Joseph's cemetery – Maria with her mother, and Joseph lying forever with Norah. The house remains. Though it's been gone from the family for a century, locals still call it the Hoult place.
But the house's other historic graffiti artists are still alive. Carol Anderson and Anita Peters live in Takaka now, six and a half kilometres apart. They were 13 in 1967, their birthdays just three days away from each other, and they remember the "haunted" Hoult house well – especially how all the kids used to dare each other to go inside.
"It wasn't naughty," Anderson says. "All the kids did it. Though they'd been told it could fall down any day, they ignored it".
Both artists now, the pair used to play together in Wai-iti as children, roaming around the roads on their bicycles. "It was a free-for-all," Peters says. Though they fell out of touch for about 30 years, they're back in contact since Peters moved to Takaka.
Although they have satisfying contemporary memories of digging into the cardboard-like wallpaper and scrim of other houses – especially Anderson, who grew up to be a sculptor – they don't remember the day of this particular graffiti. "I remember going up the paddock, and I remember going there often enough," Peters says.
"I remember the scariness of it. But I don't remember carving anything."
Neither does Anderson. "But then I used to carve things into anything, really. Didn't you?" she asks Peters. "Up in the Wai-iti Domain."
"It was probably about it being there for posterity," Peters says.
"We thought like that in those days. We wrote poetry and did thoughtful things. I recognise the impulse. It's a way of marking your life somehow, of something that's going to live beyond you. Not that you probably think of that at the time."
"It's your ego asserting itself," Anderson says. "'I was here'."
When we turn up to Peters' historic villa, Anderson has not only brought warm cheese and sweet chili muffins wrapped in a tea-towel, which happen to go wonderfully with Peters' feijoa relish. She's also brought another Waimea College school friend who has fond memories of the Hoult house – Judy Cullen, nee Lines, sister of Linesy.
Their uncle David used to say that there were so many people nosing around that house that they should booby-trap it. So they did. Cullen's brothers set up a piece of wire hung with old tin cans across the door, and wait for their prey.
"We used to watch and we'd see people screaming down the hill," Cullen says.
"That explains a lot," Anderson says, who once opened the door to an avalanche of cans.
"There was a hell of a racket. I screamed and ran off and dropped my jandal at the end of the verandah and had to go back up. I can just remember being terrified."
Cullen recalls how useful the place was to several generations of her family. After the Lineses bought it, the house was used as hop-pickers' accommodation until the early 60s, the workers enjoying fresh potatoes and milk from the farm every day.
"Farmers were the original recyclers," Judy says.
"They never pulled anything down. If there was a house falling into disrepair they got boards, iron, bricks from the chimney, cut holes in it and loaded it up with hay. We would have had mismothered sheep thrown in amongst the hay with a couple of lambs."
Besides, they couldn't pull down the archetypal old house, she says. "It was the most-photographed house in the area. It was on too many calendars every year. We were really proud to live on the farm [with it]."
Anderson once painted it. Cullen drew and photographed it and did a whole school art project on it.
Her daughter did as well. Her grandchildren haven't yet – but if she goes to her daughter's house in Blenheim there's an old lino cut of the house on the wall.
"It's very famous for being decrepit," Peters says.
"It's beautiful – the big totara trees on either side and the hill in behind," Cullen says.
"It sometimes had daffodils, if you came in spring. And when that windmill was there that was gorgeous. We've all loved it in our own ways. It's very cherished."
Although it's been gone from the family for so long, it still feels a little like home for some of the Hoult descendants. Joseph Hoult's great-grandniece, Jannine Krammer, lives in Tapawera now. She and her sister Carol have an interest in family history, and they've poked around the old house, leaning in the windows and taking pictures.
She says it's not going to take much to knock it down; she's surprised it's lasted this long. "But it'll be a shame to see it go."
When she drives past it into Nelson these days, she's amazed, quite frankly, at how many times she sees people stopped on the side of the road taking their photos. The old place is famous region-wide – it has appeared in dozens of paintings, and there are lots of moody shots on Flickr. She's proud to see them taking an interest. "I feel like stopping, and telling them stuff about it."
It's weird thinking that her relatives died in the house, taking their last breaths under ceilings and walls still standing; that her great-uncles took up a pencil and scratched their names on the ceilings as children.
"I do get the sense they're there," she says. "It's quite eerie."
She has left instructions that when she dies she's to be buried in St Joseph's alongside her family, a clan of more than 50. She'll lie next to Joseph, Maria, Norah, and the other Hoults who lived and died in the wooden house – one of a few still standing, dotted across the old totara forests of this rich southern land.
<3 Anna