Or, My Thoughts On The Illustrated Case Of H.H. Holmes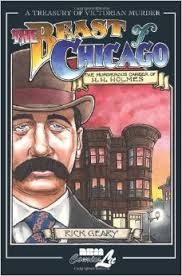 Usually, I restrict myself to unsolved murder cases from history, but reading about Jack the Ripper led me to the horrific crimes of H.H. Holmes. Maybe I was so interested because we still know so little about his crimes, even how many people (mostly women) he actually killed in his "castle." The fact that this upstanding businessman had a castle full of torture chambers is astonishing in itself.
Rick Geary's illustrated casebook, The Beast of Chicago: the Murderous Career of H.H. Holmes, is a wonderful introduction to the subject, and I feel like I don't need to read anymore about this man. The book gives all the pertinent information and accompanies it with incredibly detailed line drawings, from Holmes' little known childhood to his execution. It's a quick read. I read it in one sitting. I was also relieved the drawings aren't too gory. No detailed sketches of torture or the bodies found, which I was glad for since some of his victims were children.
Geary's volume is a wonderful mash-up of a true crime paperback and a graphic novel. I will be looking for the other books in his Treasury of Victorian Murder series.
<3 Anna