Or, My Thoughts On Andy Weir's Sci-Fi Adventure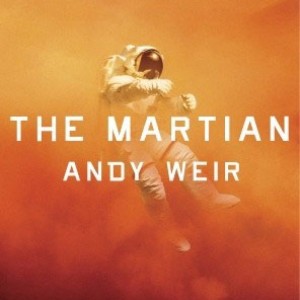 I first heard about The Martian in Entertainment Weekly and I was interested in the runaway bestseller soon to be a star-packed movie, but I was still blown away by how great the story is.
Mark Watney, and his space suit, are critically injured during a dust storm on Mars. His crew, believing him to be dead and not wanting to risk more lives collecting his body, abandon him on Mars and evacuate the planet. The only hiccup is that Mark isn't dead. There begins one of the wildest and most exciting adventures I've ever read. We follow him day-by-day as he struggles to survive on a planet completely inhospitable to him. The story gets even better when we are introduced to a wider array of earthbound characters.
Though I'm not a huge science fiction fan, Mark's narration was so enthralling I couldn't stop reading. I had to know what happened to him. Sometimes the author's attention to detail when it comes to resisters and amps and volts made my eyes cross (perhaps it would help if I knew what any of that stuff actually does), but overall it is a can't-miss novel.
<3 Anna
Ghosts, Hauntings, & Cheap Books: Sign Up For My Monthly Newsletter Today.