Or, Care To Own A New Orleans Mansion Complete With Ghost?
Click here to see the original article or scroll down to read the whole story.
Mardi Gras Landmark and Haunted New Orleans Mansion For Sale
Written by Eileen McEleney Woods in Feb. 2016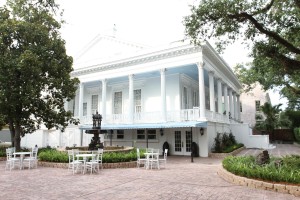 As the snow piles up, a weary New Englander's mind can't help but turn wistfully to New Orleans and the kickoff of Mardi Gras. Now you can own a piece of the grandeur amid the fanfare in New Orleans' Garden District.
Magnolia Mansion, a purportedly haunted bed and breakfast, is on the market at a reduced price, $4.9 million, Top Ten Real Estate Deals reports. Businessman Alexander Harris commissioned the home for his young bride, Elizabeth "Lizzie" Johnson Thompson. The property is a popular site for weddings and features themed guest rooms that range from the elegant to the fun — Lafitte's Hideaway, Bordello Moulin Rouge, Vampire Lover's Lair, and Gone With the Wind, to name a few.
Folks flock to New Orleans for Mardi Gras, but this home has other draws. It's one of the most photographed homes in the city, and in 2011, USAToday.com named it one of the "10 Great Places to Sleep with a Ghost." Guests have reported encounters in which friendly spirits tucked them in at night and played with their phones and their shoes, according to various news accounts.
For some folks around here, another winter of shoveling is scarier.
Ghosts, Hauntings, & Cheap Books: Sign Up For My Monthly Newsletter Today.
<3 Anna