Or, The Manuscripts I Can't Wait To Share
2016, A Bright New Year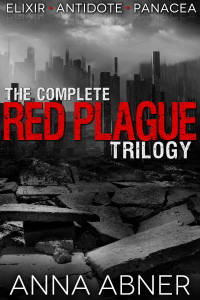 Since last fall, I've been working on a new story in my Red Plague series. The original trilogy is complete, but I couldn't stop thinking about this world and these characters. I have written, and am now editing and revising a new novel with new characters set in the Red Plague world.
Blurb:
Ex-wrestler Callie Crawford wants to protect her infected boyfriend, Levi. She's kept him safe from others and himself for four months, but then a zombie steps in front of her vehicle and she's cut off from Levi. When computer nerd Roman Duran admits he has a cure for the 212R virus, Callie will venture into the wilds of apocalyptic North Carolina to heal her boyfriend. Along the way, she realizes Levi isn't the man she remembers and Roman might be more than he seems.
Look for updates in the next few months. The next story in the Red Plague series will be out this summer.
Also on my plate is a new series tentatively titled The Prophecy Series. Once the Red Plague Series concludes, I have an idea for a new paranormal series set in the American Southwest.
Blurb:
Powerful witches and sexy shifters fight an evil horde of vampires led by Oleksander the Destroyer.
Connor, a damaged vampire hunter with a cursed future, and Alina, a newly orphaned young woman with a terrible secret, will unite with a common goal–kill the horde.
Check my Coming Soon tab for the latest news and updates.
Ghosts, Hauntings, & Cheap Books: Sign Up For My Monthly Newsletter Today.
<3 Anna