Or, My Conference SWAG Arrived And I Want To Share!
I'm so excited to attend both Comic-Con and Romance Writer's of America's national conference (I can't stop smiling!), I ordered new promotional goodies. If you'd like to receive the pictured loot, send me an email at [email protected] or leave a comment on my blog and I'll ship a personalized care package to the first 10 responders. Good luck!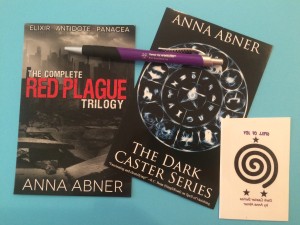 Ghosts, Hauntings, & Cheap Books: Sign Up For My Monthly Newsletter Today.
<3 Anna