Or, Watch Your Back In Pennsylvania
Read the original post here or continue below for the full story.
Ghost Attacks Photographer in Pennsylvania House 'Haunted' With Demons and Spirits
Written by Darcie Loreno in July 2014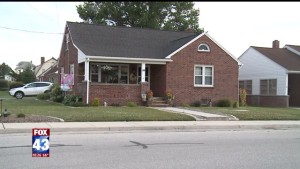 HANOVER, Pa. — Homeowners in Pennsylvania claim their home is haunted with ghosts and a demon, and one photojournalist was reportedly hurt while inside.
According to WPMT, homeowner DeAnna Simpson said they've lived there for seven years, and she says she has photos and recordings of voices, laughing, and even dogs barking.
She said one of the ghosts is a demon, and that she caught it in a photo. She said it is a 7-foot-tall figure.
When a Fox 43 photojournalist entered the home for a story, he felt his hand burning and saw a scratch on his wrist. Simpson claims he was hurt as a warning about telling her story.
<3 Anna
Ghosts, Hauntings, & Cheap Books: Sign Up For My Monthly Newsletter Today.