Or, If You Love Reading Paranormal Romances Then I Have An Offer For You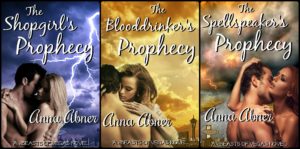 I'd love to hear what you think about my latest upcoming release The Spellspeaker's Prophecy. If I send you a digital, advanced copy a week before its release, would you be willing to read it and post an honest review on Amazon?
You'll be one of the first to read the second book in the Beasts of Vegas series, and as a bonus you'll be invited to join my VIP readers group.
Interested? Email me at [email protected] or DM me on Twitter (@AnnaAbner), Instagram (Anna.Abner) or Facebook (Author Anna Abner).
Ghosts, Hauntings, & Cheap Books: Sign Up For My Monthly Newsletter Today.
<3 Anna