Or, What I Thought Of Tessa Dare's Spindle Cove Starter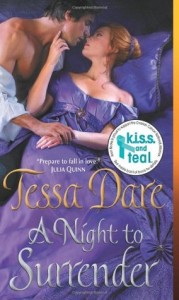 Back Cover Blurb:
Spindle Cove is the destination of choice for certain types of well-bred young ladies: the painfully shy, young wives disenchanted with matrimony, and young girls too enchanted with the wrong men. It is a haven for those who live there.
Victor Bramwell, the new Earl of Rycliff, knows he doesn't belong here. So far as he can tell, there's nothing in this place but spinsters…and sheep. But he has no choice, he has orders to gather a militia. It's a simple mission, made complicated by the spirited, exquisite Susanna Finch–a woman who is determined to save her personal utopia from the invasion of Bram's makeshift army.
Susanna has no use for aggravating men; Bram has sworn off interfering women. The scene is set for an epic battle…but who can be named the winner when both have so much to lose?
My Thoughts:
I adored this book! It was fun and feisty from the very beginning to the happily ever after ending. Bram is damaged, both inside and out, but so is Susanna, and they make the perfect pair. When the boys took over the girls' delicate tea shop, transforming it into the Rutting Bull Saloon, I couldn't wipe the goofy grin off my face.
But my favorite part is Bram and Susanna's verbal brawling in the cove.
Bram: "You're just begging to be taught a hard, fast lesson in what it means to please a man."
Susanna: "You're just longing to put your head in my lap and feel my fingers in your hair."
He backed her up against a rock. "You need a good ravaging."
"You," she breathed, "need a hug."
I highly recommend this book to Regency fans, and I'll be looking for the second book in the series!