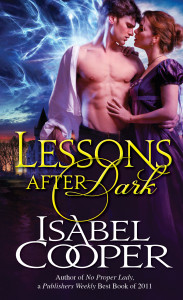 Author's Back Cover Blurb:
A woman with an unspeakable past
Olivia Brightmore didn't know what to expect when she took a position to teach at Englefiend School, an academy for "gifted" children. But it wasn't having to rescue a young girl who levitated to the ceiling. Or battling a dark mystery in the surrounding woods. And nothing could have prepared her for Dr. Gareth St. John…
A man with exceptional talent
He knew all about her history and scrutinized her every move because of it. But there was more than suspicion lurking in those luscious green eyes. Even with all the strange occurrences at the school, the most unsettling of all is the attraction pulling Olivia and Gareth together with a force that cannot be denied.
My Review:
I've been reading every historical paranormal romances I can get my hands on (I'm taking recommendations if you have any!), and since I'd already read Isabel Cooper's No Proper Lady and loved it, I greedily began Lessons After Dark. The part I liked is how Cooper's rural school for the extraordinary is a lot like both Professor X's school in the X-Men comics as well as Harry Potter's Hogwarts. Like in those other stories, a group of misfit young adults arrive at the school for help controlling their supernatural abilities. I only wish either there were fewer students or Cooper worked harder at distinguishing them because, even at the end, I couldn't tell which boy or girl was which. The hero and heroine, however, are beautifully drawn and are a lot of fun.
This was a wonderfully written historical paranormal, though not as good as No Proper Lady, and I would recommend it to anyone who likes superheroes, mutants, and wizards.
Ghosts, Hauntings, & Cheap Books: Sign Up For My Monthly Newsletter Today.
<3 Anna