Or, I Gush Over Elizabeth Hoyt's Regency Romance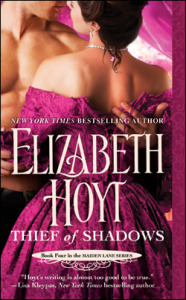 Back Cover Blurb:
A MASKED MAN . . .
Winter Makepeace lives a double life. By day he's the stoic headmaster of a home for foundling children. But the night brings out a darker side of Winter. As the moon rises, so does the Ghost of St. Giles-protector, judge, fugitive. When the Ghost, beaten and wounded, is rescued by a beautiful aristocrat, Winter has no idea that his two worlds are about to collide.
A DANGEROUS WOMAN . . .
Lady Isabel Beckinhall enjoys nothing more than a challenge. Yet when she's asked to tutor the Home's dour manager in the ways of society-flirtation, double-entendres, and scandalous liaisons-Isabel can't help wondering why his eyes seem so familiar-and his lips so tempting.
A PASSION NEITHER COULD DENY
During the day Isabel and Winter engage in a battle of wills. At night their passions are revealed . . . But when little girls start disappearing from St. Giles, Winter must avenge them. For that he might have to sacrifice everything-the Home, Isabel . . . and his life.
My Thoughts:
I have a secret to confess. Though I write paranormals, I adore regency romances. The dresses, the balls, the afternoon teas. The polished manners concealing roiling passion. I can't get enough!
Thief of Shadows has it all. From the first line — "The body in the road was the absolute cap to the day" — to the last, it's a sexy and thrilling adventure.
My favorite part has to be Isabel's tutoring Winter in not only good manners and ballroom dancing, but in the bedroom, as well.
<3 Anna
Leave a Comment