Written by Anna Abner
Copyright 2018 by Anna Abner
Read The First Chapter Of Beasts of Vegas #3!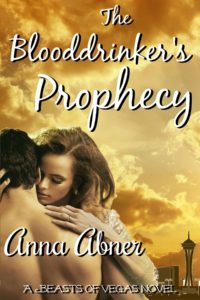 Chapter One
Maksim Volk struggled to his knees despite the pain in his muscles and joints, despite the hunger gnawing at him from the inside out. The garage tilted, fluctuating the shadows of the wooden joists supporting the roof. His chains rattled, clanking among his wrists, ankles, and the bolt in the concrete foundation.
There was nothing for him to do but wait while his body wasted away. The infection swimming in his veins would keep him alive indefinitely, healing injuries and enhancing his senses, making him stronger than human men, granting him strength. Not enough to escape, though, not after starving for days.
But Maks hadn't survived decades of torture to surrender to a few links of chain and a dry spell. During the twenty years he'd been a prisoner and guinea pig of the US Army, his captors had tried everything to test the limits of his fortitude, including starving him. He knew exactly how badly things could get before he desiccated.
Connor had done this to him. He and Anya.
No, she preferred Ali now, the name her biological father Uri Rusenko had given her. It was a pretty name, but it was difficult to gaze into her big blue eyes—eyes so like her mother Katya's—and not remember the little girl named Anya.
Maks had never considered loving a child. Turned into a vampire at seventeen, he was barely more than a child himself when he first laid eyes on Katya. But when he infected her rather than lose her and she birthed a beautiful, blue-eyed baby girl into his hands, Maks had been completely and utterly smitten. For the first time in his life, someone had not only depended on him, but trusted him too. As Anya had grown, she'd gazed up at him and it had felt like someone in the world believed in him. He was a father, no matter how unconventional, and Maks loved every minute of it. Loved Ali. Loved Katya. Loved being part of a family.
But his daughter had stood by and watched Connor Beckett lock him in chains.
Maks gripped the links near the bolt and heaved upward. One of his finger joints dislocated, and still he pulled.
It wasn't enough. The bolt remained secure, and he drooped, exhausted.
It wasn't Ali's fault, though, that she'd lost faith in Maks. She'd been in Britain under Uri's brutal care for almost her entire twenty-two years of life, far from vampires and the supernatural. Far from him. It wasn't her fault she thought he was a monster.
If he escaped the chains, he'd do anything to make it up to her.
He kicked the only object in range—a section of half-finished wall. Little remained of its original shape, and Maks further added to its deterioration with three or four savage blows with his bare foot. Wood splintered, drywall crumbled, and nails squealed in protest.
Unable to remain on his knees any longer, Maks slumped onto his side and closed his burning eyes.
Dozing in a blood-starved haze, he thought of his amber-eyed captive, Violet. It was like he could smell her sweet breath. Like he could feel her creamy, soft skin.
Maks had kept a lot of blood donors over the years, but Violet had impressed him from the start. She wasn't cowed, despite having suffered under Oleksander the Destroyer, sadistic former warlord of the horde. She was brave, smart-mouthed, and her blood was fine liquor after a hard day. But keeping Violet a prisoner was like trapping a wild bird in a wire cage. It wasn't right.
He must find her before Olek's little brother Sergei hurt her. Anya would help him. No, she went by Ali now. Still, his little girl would help him save Violet. She had to.
Someone approached the garage. Footsteps crept nearer, and the side door swung open on silent hinges.
#
Ali Rusenko wasn't super excited to do the Oracle's bidding today. Ilvane the Oracle, also known as fourteen-year-old Caitlyn from suburbia, wasn't exactly a friend. So far, Ali's experiences with her prophecies were less than positive. If it hadn't been for the Anya from Nadvirna prophecy, Ali wouldn't have become the obsession of Oleksander and nearly died.
But the Oracle had recently visited Connor and asked him to be at a street corner in Vegas today a little after two. Oh, and by the way, bring Maksim Volk. The only hitch was, Maks was currently chained up, feral and half-mad himself, in their cabin in the Nevada desert.
"Prophecy time," Connor Beckett announced, whipping open his hotel suite's front door. "When the greatest seer in the world tells me to be somewhere at a certain time—I'll be in that spot at that time."
Ali strolled into the hallway and pressed for an elevator. "Any chance the Oracle's ramblings were just that?"
"Caitlyn may be batshit," Connor said, gracing her with a slow smile, "but everything she says happens." The smile, at odds with his words, widened suggestively.
Her boyfriend was damned sexy, even more so since he'd been infected. A card-carrying member of the supernatural world—he was without equal in strength, speed, and healing ability. In her humble opinion, he was the hottest vampire walking.
Still amazed at how lucky she'd been on her first trip to the US, Ali rose on tiptoe and pressed a sweet kiss to his mouth. Growing up sheltered and different in the UK, she'd never believed she'd fall in love with such a beautiful, warm-hearted man, let alone that he would love her in return.
Still in his arms, Ali asked, "Didn't she say taking Maks with us was optional?"
The elevator doors opened inside the underground parking structure and they beelined it for Connor's souped-up 1973 Ford F-350.
"She said it'd be fun. Besides, I'm not taking any chances with fate." Connor held the passenger door open for Ali, and she climbed in, bouncing on the wide bench seat. "Especially when it comes to helping people."
"Speaking of helping people," Ali said, "can we agree to release Volk after we do this errand for the Oracle? It's not right keeping him like a captured animal."
Ali didn't enjoy the thought of Maksim Volk, or anyone, chained up in a cabin—alone, restrained, starving. No one deserved such treatment, not even Olek's right hand man. But the last time they'd interacted with him, he'd been raving mad. Not long ago, Volk had murdered her cousin Stefan right in front of her. She didn't exactly trust him. Connor had never trusted him.
"I don't feel right keeping him prisoner," Ali told Connor as they raced across deserted highways south of Las Vegas. "Either we hand him over to the government, or we let him go. We can't keep him caged indefinitely."
Connor glanced at her before returning his attention to the gray road unspooling under the hood of his pickup. "You know what the government would do to him."
"Torture him," she agreed. The US Army had already held him prisoner for the past twenty years, testing God-knows-what on his body, his blood, and his spirit. "Or just kill him."
"Is that what you want?"
Ali sighed. "Of course not. I'm simply making the point that we don't have a lot of options." Maksim Volk was the closest thing to a father she had left, which depressed the hell out of her.
She possessed no memory of it, but according to Maks, she'd lived with him and her mother in some twisted vampire family for the first two years of her life. Volk had infected Ali's mother Katya when she was nine months pregnant with Ali. The infection had forced Ali into the world and into Maksim Volk's arms. Which made her feelings about the vampire complicated. To say the least.
Connor pulled the truck onto a long, sandy driveway and, after coding a number into the security gate, parked in front of a one-bedroom hunting cabin once owned by Connor and Roz's friends, Anton and Natasha. But after the unlucky siblings had been murdered and eaten by the Four Sons, Roz had inherited the property as well as a great deal of money to use in researching the paranormal.
Connor caught up to her at the garage door. "I don't hear anything."
Ali tried peering through the side window, but the glass was too dirty. "Is he okay?" Oh, God. Had they killed Maksim Volk?
"I expected to hear chains rattling," Connor said, "or swearing, or something. The last time we saw him he was screaming bloody murder." Stepping around her, Connor unlocked the door and opened it extra slowly, examining the large space an inch at a time.
"For God's sake," Ali exclaimed, wiggling under his arm and shoving wide the door.
Volk hadn't escaped. He was exactly where they'd left him. Though his gunshot wounds had healed, it was obvious from the various dark red streaks that he'd tried to squeeze out of the shackles around his wrists and ankles. He may have even tried to chew himself out.
"Maks?" she called softly.
"His heart's beating," Connor said, remaining by the door. Apparently satisfied the vampire curled on the floor, pale and covered in his own blood, posed no threat, he said, "He's alive, but he needs to drink if you want him to stay that way."
Ali threw Connor an annoyed look over her shoulder before kneeling beside Volk. Of course, she wanted him alive. If everything he said was true, and who knew with his reputation as a liar and a traitor, then her mother had loved him enough to leave her human life and join him in some vampire commune in the Ukraine with her newborn daughter. If Katya had trusted him, Ali could give him another chance.
"Maks?" Ali repeated, reaching out a hand to touch his blood-crusted hair. Her fingers brushed at the dark lock covering his face. "Can you hear me? We brought blood."
At the B word, his sunken brown eyes opened, but he remained eerily quiet.
"Here." She gestured for Connor to hand her a blood bag, which he did. She tore open the tubing and pressed the dribbling end to his lips, then, shifting into a sitting position, she pulled Maks' heavy head into her lap. He swallowed as if it hurt.
She found the vampire's musky scent faintly familiar. Was it a distant memory emerging from the shadows of her past? Maybe, but when she focused on it, the recollection disappeared.
"I'm so sorry," she said, cupping the side of his face. "We thought we left you enough blood to last two weeks."
"Looks like," Connor said, kicking at empty, discarded packets, "he drank everything the first day to boost his strength to escape."
"We should have come back sooner." Ali didn't enjoy thinking of him in such a desperate situation, especially one she'd put him in.
"She's helpless," Maks hissed between swallows, finally breaking his silence. "…my fault."
"Who is 'she'?" Ali asked as he finished the first bag. He'd been ranting about saving someone since they'd captured him, but he hadn't yet been lucid enough to explain.
"Violet."
She'd never heard of her.
Connor handed Ali a second blood bag.
"Unchain him," she said firmly. "Enough's enough. He can't even feed himself."
After a pause, Connor said, "Fine," and knelt to unshackle Maks' wrists and ankles.
Ali offered Maks the next bag, but he didn't immediately take it. When he attempted to lift his right arm, it became obvious it was dislocated.
"I can help with that shoulder," Connor said.
After Maks inclined his head, Connor grabbed his right wrist, pushed back with his boot, and slid the arm into its socket with a wet pop.
Ali cringed, but Maks didn't react to the pain.
"So," Connor said, leaning against the wall. "The Oracle asked me to take you with me to the corner of Thompson and Faraday at two oh six this afternoon. Wanna come?"
"Why?" Maks asked.
Ali gazed down into the vampire's pale, boyish face. Holding him was like carrying a sleepy lion in her lap. He was dangerous, and yet his weight was comfortable and familiar, as if they were friends. Or even family.
No. Not even close.
Ali wiggled out from under the suddenly stifling burden of Maks' upper body.
"You think the Oracle makes sense?" Connor chuckled. "She told me to be at a certain place at a certain time, and then tacked on that I should bring you. 'Fun' is what she called it. Now, drink your fill, clean yourself up, and let's hit the road."
"So you can lock me up again?" Maks questioned angrily. Grabbing a third blood bag, he sat up and sank his fangs into the plastic pouch.
"I'd rather trust you," Connor said. "But it's not easy. Are you a bloodthirsty psychopath, or are you a misunderstood victim? Or something else altogether? I don't know. No one knows."
"I have to get out of here," Maks said, struggling to stand.
He swayed, reaching for the wall that was too far away to help. Ali imagined him tumbling onto his face, and her stupid sympathetic heart won over common sense. With a muttered curse, she swept under his arm and supported some of his weight.
"I don't know if he's strong enough to come with us," Ali told Connor, frowning at Maks' so-white-it-was-nearly-translucent skin. "I'd rather drop him off at the suite and put him to bed for a couple days."
They rented the fifty-first floor of the Le Sort Hotel on the Vegas Strip, another gift from the recently deceased Anton and Natasha. So long as Roz and Connor wanted it, the siblings' sizeable estate would foot the bill. Right now, Ali felt it was the safest place for Maks to recuperate.
Connor shrugged. "Caitlyn said I should take him."
The Oracle was never wrong. She'd foretold Connor's releasing of Oleksander the Destroyer and Ali's role in the same warlord's final battle. Ali didn't mess with the Oracle. Caitlyn simply knew too much.
"If you swear to me," Maks looked directly into Ali's eyes, "that you'll let me go, then I'll do the Oracle's bidding. But you have to swear."
Before she could second-guess herself, Ali said, "I swear it."
Connor grumbled something unintelligible and handed Maks the fifth and final bag of blood before leading them outside.
#
Maksim Volk stared at the side of Connor Beckett's head and snarled around his fifth blood bag. He was feeling a little more like himself—arm healing, joints mending, any and all torn flesh regenerating—which meant his annoyance with the uppity twat had returned in full force.
Who did Connor think he was? What made him believe he could romance Maks' little girl and act like lord of all vampires? He was such a holier-than-thou asshat, Maks could hardly stand him. Maks was a prince, a lieutenant, a goddamned warrior. He should terrorize anyone idiotic enough to make eye contact, but Connor Beckett jerked him around like the dumb kid Maks certainly was not.
Maks glanced to the right at Ali. Her love for Connor was the only reason Maks hadn't eviscerated him already.
By the time Connor's truck passed through the outskirts of Vegas, Maks had finished devouring the bagged blood.
"Explain to me again the Oracle's instructions," Maks said, dropping the empty blood bag on the floorboards near his feet.
He needed to get this prophecy shit over with so he could track Sergei's group. They'd probably fled their last hiding place on Red Rock Road in suburban Las Vegas. If they'd taken Violet with them rather than slaughter her and leave her for Maks as a warning, he would find her.
Guilt niggled him. If he'd let her go when he could have, she'd be safe in her home now, not an abused blood slave at the mercy of a pack of psychopaths and sadists.
He was a piece of shit. A no-good, selfish, cowardly pile of garbage.
He could do one decent thing, though. He could get Violet away from the horde.
That firecracker must still be alive. She was stronger than anyone gave her credit for. No one had been able to bully her—not Olek, not him, not even Sergei.
"I will find Violet," he vowed, and his chest swelled slightly with the first stirrings of hope. He could do this. For her. For himself. He could do something noble and selfless. He would.
Connor speared him with a look. "I don't know who that is, but you'll have to get your strength back to find anyone. In the condition you're in right now, you'd fall over at the first stiff wind. You're useless."
"Your flattery is embarrassing me."
He rolled his eyes. "Just telling the truth, brother."
"I'll help you," Ali chimed in, and then ducked her head, shielding her face with her long blonde hair.
"Thank you."
"Anyway," Connor cut in. "The Oracle didn't make a lot of sense." The man's hands tightened on the steering wheel of his obnoxiously loud F-350 pickup. "But the gist is to be at a specific corner at a specific time. Oh, and by the way," he said sarcastically, "bring Maks with you. It'll be fun."
"Hmm." Maks couldn't care less about the ramblings of an unstable young woman. Olek, though, had been obsessed with the Oracle Ilvane's prophecies, especially the ones about him. The Anya from Nadvirna prophecy had pestered him more than the rest, but that had been proven true. Anya, now Ali, had destroyed him and fulfilled her prophecy.
"Whatever happens, I trust her," Connor said. "If she says you should be there, you should be there."
"Anya, do you believe in this prophet?" he asked, edging around to see her more fully. She looked so much like her mother. The only thing she'd gotten from her father was his yellow hair. Everything else came from Katya, his little bird. She would be so proud to see her daughter grown and doing well. The thought of Katya's dismembered skeleton buried in the Nevada sand made his stomach clench. The damned US Army had tortured and killed her, then buried her in a mass grave. As if she was nothing, as if they possessed the right.
"It's Ali," she corrected him, "and yes. I trust her."
Guilt again. Sour, acidic regret.
Perhaps the way to Ali's good side was through Katya. "Do you want to know anything about your mother?" Maks blurted out.
"What?" She looked startled and maybe a little hurt.
Where had his legendary charm gone? Had it finally been beaten and humiliated out of him? Had Sergei done what neither Olek nor the US Army could? Break him?
"Your mother," he tried again, more slowly. "I can tell you stories about Katya. If you'd like to hear them."
Connor broke into their conversation before Ali had a chance to answer. "Sorry guys, but we're here, and we're cutting it close on time. Rain check on the family reunion?"
#
Violet Russell blinked into the gauzy light, unable to make out more than varying shadows within a poorly maintained bathroom in a tiny hotel room stinking of mold and cigarette smoke.
She'd once naively believed being the blood slave of Oleksander the Destroyer had been the worst experience of her life. When he'd given her to his second-in-command, Maksim Volk, it had been a relief. Maks didn't beat or abuse her and only drank from her when necessary. He didn't release her, either, but he didn't harm her.
What a fool she'd been to think things couldn't get worse than slavery to Olek. Being a captive of Sergei and the Four Sons' horde was worse.
If Maks hadn't split, they might have figured out a plan together. But the beautiful dummy had abandoned her. After all the blood she'd sacrificed for him, he'd just left.
Life wasn't working out as she'd planned. Things had started out okay. Two parents, a decent home, twin little brothers, a mediocre elementary school, and church on Sundays. But things had gone seriously awry. She'd downgraded from girl next door to blood slave.
She didn't deserve it.
A stupid bachelorette weekend in Vegas with her cousin Lexi, the bride-to-be, had decimated her entire life and all of her potential. If Violet had been at home with her baby Jackson on the night Olek had been netting blood donors, she wouldn't have been pushed into a dark corner by a giant of a vampire, drained into submission, and driven to an abandoned hospital on the outskirts of town. She wouldn't have been kept like a farm animal for weeks and handed over to Maksim Volk like a half-eaten sandwich.
Maks had the pretty face and lanky body of a seventeen-year-old boy just coming into his own. He wasn't a boy, though. He was much older than he looked. And he cried quietly in his sleep. When asleep, the most Olek had ever done was snore and fart. But Maks was different. Something inside him was broken, and in the dead of night when she was the only witness, his tears came. In those moments, it was easy to forget he was a vampire. And not just any vampire—Maksim Volk, right hand man to Oleksander the Destroyer. Maks the Traitor. The Beautiful Devil.
He may appear a cold-blooded killer, but he wasn't. He was a broken man trying to survive among monsters.
She worried about him, and worrying about Maksim Volk made her question her own sanity. He stayed out late, returned stumbling and covered in blood, and he rarely drank from her, which made her wonder both where else he acquired his blood and why she wanted him to taste her. But he was just the right kind of crazy to make her want to know more.
For the past thirty-six hours, Maks and Sergei had both been no-shows in her shitty new slave quarters, and Violet existed in a strange dream world of exhaustion, anxiety, and gnawing hunger. Once in a while, one of her captors would remember that she required sustenance, too, and they'd give her a can of soda or a granola bar. It wasn't enough to keep her alive for long, not with the prolonged anemia.
If Maks planned to rescue her, he'd better move faster.
She might save him the effort.
The door opened, and painful fluorescent light poured into the foul-smelling room. Sergei himself glared down at her. He opened a single can of salty, processed soup and toed it across the tile. They made eye contact, and Violet read nothing but cruelty in his dark stare.
Then Sergei was gone.
Violet hesitated only a moment, straining to hear the vampire as she stood on weak legs and tip toed oh-so-slowly through the deserted hotel room. She pictured her son's bright, pink face, all curious golden eyes and sloppy smiles. He needed her. Violet must be brave.
Light as a feather, quiet as a butterfly, she scampered to the window and peered down onto a busy street. It was a three-story drop, but she hardly registered as she slid open the glass and tore through the screen.
Where no one had been a moment ago, Sergei stood in her personal space. He caught her by the hair with a laugh of amusement. Violet stiffened, fighting the urge to scream her throat raw. Though she wanted to wail and beat her fists against the vampire warlord, she swallowed the pain.
"I grow bored of you." Sergei sniffed her flesh from her mouth to her throat. "I look forward to seeing the traitor's face when I tell him I made you fly."
#
Maks hopped out of the truck, berating himself for screwing things up with Ali yet again. Maybe after a good night's sleep and a hot shower he'd be a little better at talking to her, not that he'd ever had that problem before.
"This is the spot," Connor said, marching across the sidewalk in front of a sleazy hotel from the nineteen sixties. He checked his watch. "Two minutes to spare. Keep your eyes peeled. Anything seems out of the ordinary, speak up."
Maks wandered a little down Thompson Street, finding few crowds this early in the afternoon. He backtracked and stared down Faraday. Nothing supernatural about a parking lot and a weed-choked chain link fence. The most unusual things on either street were the three of them standing around looking conspicuous as hell. Maks joined Connor on the corner and gazed up at the dilapidated hotel that could stand in for a set from a Hitchcock film.
As he watched, movement in the third-floor window caught his eye. Wood casing splintered, and a girl sailed through the window, tumbling straight for the sidewalk at their feet.
Not any girl. Violet.
It took Maks no more than a split second to recognize the rags Violet wore and her streaming auburn hair as she plummeted to earth.
Beside him, Connor had seen her too and steadied himself to catch her. Maks shoved him off balance, stepped into his spot, and looked up just as Violet crashed into him with the force of a falling piano. She flattened him to the pavement, but he was able to hold her off the ground and sit up as Violet hung limply from his arms.
"Oh, my God!" Connor exclaimed. "Did you see that? She fell out of a window, and you fucking caught her! You caught her."
Maks cradled Violet to his chest and patted her pale cheek. Bruises along her throat told him she'd been bitten. A lot. The actual fang marks may have healed, but the bruises were a different matter. They'd be around for a few days.
"Violet?" he whispered. The shock of the fall and the force of their collision had knocked her out. "Ali?" he tried instead. "She needs a doctor."
"Of course, of course," Ali said, her cell phone already plastered to her ear. "Lukas will be here in two minutes."
"Who's Lukas?" Maks queried. Violet was nothing but skin and bones in his arms, and he wasn't handing her over to just anybody, not again.
"A friend."
Connor grabbed Maks by the collar and shook him back to the present. "Hey, hero, the jerks who threw your friend out of a window are taunting us. Feel like kicking their asses?"
Maks tore his gaze from Violet's pallid face to Connor's and then further up the wall of the shady hotel. Sergei leered out the shattered, third-floor window. For a brief moment, their eyes met, and Maks had never known such rage.
Sergei blew him a kiss.
"Ali, promise me you'll take care of her."
"Of course," she stuttered. "I mean, I promise."
Without removing his eyes from his enemy, Maks passed Violet into Ali's lap. As he dashed for the hotel lobby, he heard Connor's heavy footfalls behind him, though he didn't wait to see if the man followed. Maks didn't care. He was angry enough to take on an army single-handedly.
Maks ran up two flights of stairs in a dead sprint, and then he crashed through the door to the first room on the left. Right into a knife.
The blade punched through his abdomen. He roared, grabbing the vampire by the hair and torqueing his head so hard he nearly decapitated the unlucky henchman. The man collapsed into a boneless heap.
Connor blew past him headed straight for Sergei as Maks ignored the eight-inch blade bisecting his liver. His rage outshone any other sensation, even pain. Grabbing a pot-bellied lamp off the end table, he threw it overhand at Sergei's head. It struck with a reassuring crunching sound.
Sergei just brushed off the attack as he and Connor exchanged heavy blows in super speed, catching and throwing punches evenly until Sergei feinted left, forced Connor face first into the wall, and rabbit punched him between the shoulder blades. Connor sucked in a horrified gasp as his legs gave out. Before Maks could reach them, Sergei grabbed Connor by an arm and a leg and tossed him out the window.
Though his pulse roared through his ears, Maks slowed his approach. He'd been spanked by Sergei before.
In the Ukraine, back when Oleksander was keeping his monster of a little brother reined in, Sergei hadn't dared touch a hair upon Maks' head. With Olek dead, Sergei seemed to be making up for lost time.
"You didn't have to hurt her," Maks shouted, his voice ragged with fury. "You didn't have to use her like a piece of meat, not when you knew how much she meant to me."
"I hoped you were already dead," Sergei growled. "I'm delighted to correct my mistake."
Maks didn't care whether he lived or died. Violet was safe. Ali was grown and well. Katya was beyond him. He could die and be satisfied with his life.
He grabbed the TV remote off the coffee table and flung it as hard and as fast as he could at the other man's head. While Sergei was distracted, Maks slid the knife from his belly and lunged, driving his shoulder into Sergei's midsection and then peppering his abdomen with the blade. In and out, a staccato rhythm, hoping to sever an artery or twenty.
Sergei rained down a skull-cracking blow to the back of Maks' head, stunning him. Dazed, he dropped his arms, leaving the knife embedded in Sergei's belly. Easily as lifting a kitten from a curtain, Sergei took hold of Maks' throat and carried him to the window. Dangling three stories above the concrete, Maks struggled to find any purchase on the walls or casing to keep from falling.
Unable to hoist himself back inside, Maks wrenched the knife from the warlord's belly. Sergei squeezed his hand around Maks' throat. Vertebrae crackled and his left leg went numb. Before he lost all control—and maybe his head in the process—Maks gripped a piece of stone siding with one hand and sawed at Sergei's wrist with the other. The vampire continued squeezing, harder and harder. Maks cut faster.
Finally, Maks broke through bone, and he was weightless for a split second. The force of gravity was too much for his fingertips to fight, and Maks fell.
It was only a three-story fall. He'd leapt off much higher buildings than—
Like Cheap Books? Sign Up For My Monthly Newsletter Today.
<3 Anna