Or, Houston's Haunted Mansion Sells
Click here for the original article or scroll down for Elizabeth Rhodes' story.
Houston Haunted Mansion Sells For Almost Double Asking Price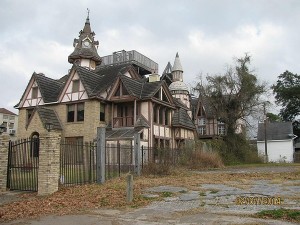 It turns out that even a scary looking, unfinished home can sell in the Houston real estate market.
A five-bedroom, 4,861 square foot mansion at 2309 Wichita Street has sold for almost double the asking price. With an initial listing price of $150,000, the so-called "haunted mansion" sold for $251,000 after approximately 25 bids.
Nick Ugarov, a real estate investor, is the proud new owner of the spooky looking mansion that sits just east of Texas 288 near Dowling Street. Ugarov was the 17th person to bid on the property.
Charles Fondow, the home's former owner, spent 31 years renovating and expanding the property, although the project was not completed before his death in 2011. Deutsche Bank purchased the property soon after, although it was not put on the market until earlier this year.
Although unsure about his exact plans for the Riverside Terrace mansion, Ugarov knows he does not want to demolish the structure.
"I am finishing the project in [Fondow's] memory," Ugarov tells the Houston Press.
Let's just hope that doesn't mean another 31 years of unfinished haunting business.
<3 Anna
Leave a Comment