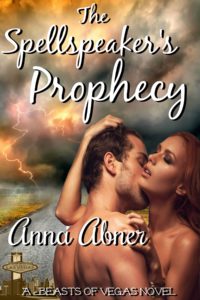 I'm so excited to announce Beasts of Vegas #2 is now available for preorder. Roz finally gets her own love story, and it's with a sexy shifter.
Cover blurb:
Roz Carrera is a witch on the fritz. Thanks to the Coven's rejection of her application for membership, she's been denied a proper magical education. Without a mentor, she's nearly useless in helping her team of vampire hunters. Complicating matters is the hulking shapeshifter she stumbles upon outside Las Vegas who may or may not be a vicious psychopath.
The only creatures shapeshifter Lukas Larsson hates more than vampires are witches. He's in the Nevada desert to destroy the vampires who murdered his family, but the witch Roz Carrera and her ragtag team sideline him. He can't allow the very sexy Roz to distract him from his vengeance.
Preorder now!
Ghosts, Hauntings, & Cheap Books: Sign Up For My Monthly Newsletter Today.
<3 Anna